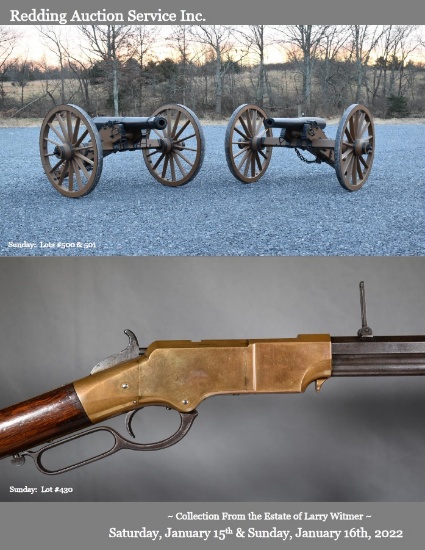 Civil War Items & Weapons Sale Day 1
Saturday, January 15, 2022 | 10:30 AM Eastern
Auction closed.
Civil War Items & Weapons Sale Day 1
Saturday, January 15, 2022 | 10:30 AM Eastern
Internet Premium:
15%
See Special Terms for additional fees
Description
Day 1:
Redding Auction Service Inc. proudly presents this lifelong Civil War collection of the late Larry Witmer from Manchester (York County), PA. This one-of-a-kind collection was acquired between the 1950s to 1990s by Larry and his father Harvey "Pud" Witmer through attending auctions, gun shows and mostly buying from private collectors. This collection has never seen the light of day until this two-day auction! As you look through this catalog, or the items in person, or the thousands of photographs on our website, you will see the great detail that Larry and his father put into acquiring this collection regarding the condition, originality and rarity of the items.
Larry Witmer proudly served his country from 1958-1962 in the U.S. Navy aboard the USS Hancock and then the USS Ticonderoga CVA-19 aircraft carriers. After his discharge from the Navy, he joined the Central Penn Antique Arms Association and was a member until 2021. Larry's passion for history and historical correctness leads one to believe as to why he acquired his reproduction 3" ordnance cannon and...
Show more
Show Less