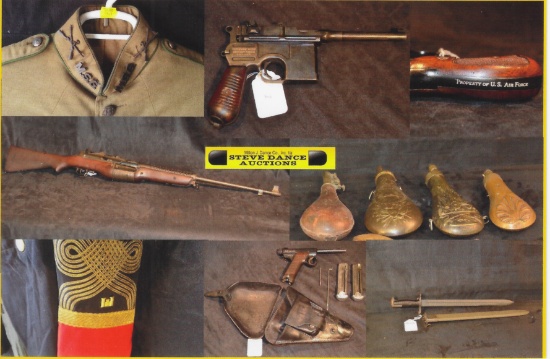 Estate Auction- Firearms & Militaria
Wednesday, November 20, 2019 | 11:00 AM Eastern
Internet Premium:
23%
See Special Terms for additional fees
Description
Milton J. Dance Co., Inc. Auctioneers for 100 Years
ESTATE AUCTION
PROLIFIC COLLECTION OF FIREARMS, BAYONETS, SWORDS, MILITARY UNIFORMS & HELMETS WITH EXAMPLES FROM THE U.S. CIVIL WAR THROUGH THE MODERN ERA AND AROUND THE GLOBE!
4-H BUILDING
MARYLAND STATE FAIRGROUNDS
2200 YORK ROAD
TIMONIUM, MD 21093
Wednesday & Thursday, November 20th & 21st, 2019 @ 11:00 am
Preview Tuesday, November 19th @ Noon
November 20, 2019, Starts at 11:00- Live and Simulcast
Firearms:
Approximately 450 Firearms including Muskets, Rifles and Handguns of Military and Civilian Design including: Arisaka Meiji, Beretta, C. Sharps, Colt, Cranston Arms, CZ, E. Whitney, Eddystone, Enfield, FN, Gwyn & Campbell, Harpers Ferry, J.P. Saur & Sons, Lt. Etienne, Luger, Manhattan Firearms Co., Marlin, Mauser, Mauser-Gewehr, Merwin Hulbert & Co., Mosin-Nagant, Nambu, P.S. Justice, Remington, Richmond Arms Co., Ruger, Savage, Smith & Wesson, Spandau, Spencer, Springfield, Stevens, Steyr, Steyr Mannlicher, U.S. General Motors, Walther, Webley & Scott, Winchester,...
Show more
Show Less