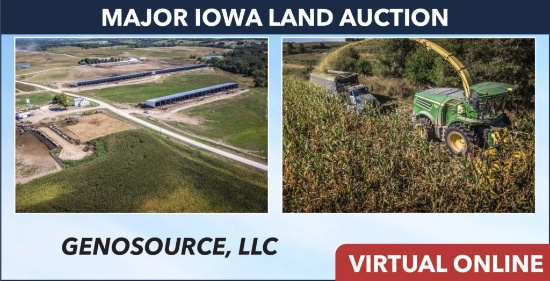 Major Iowa Land Auction - Genosource LLC
Monday, November 30, 2020 | 11:00 AM Central
to bid until the live auction begins!
Major Iowa Land Auction - Genosource LLC
Monday, November 30, 2020 | 11:00 AM Central
to bid until the live auction begins!
Internet Premium:
See Special Terms for additional fees
Description
Keokuk & Mahaska County Land Auction
2,119 Surveyed Acres± • 15 Tracts

Open House: Monday, November 16 from 9 A.M. - 2 P.M. Sullivan Auctioneers, LLC representatives will be on Tract 1 to answer questions about any of the 15 tracts.

The Genosource Farm is located in Sections 1 & 12, Cedar Township, Section 36, White Oak Township, Mahaska County, IA and Sections 5, 6, 7, 8, & 31, Benton Township, Keokuk County, IA. The farm is generally located 2 miles northeast of Fremont, IA or 14 miles north of Ottumwa, IA. (Watch for presale directional signs posted off Hwy 23 in Fremont, IA)

Mark your calendars now for this unprecedented Iowa land auction. Sullivan Auctioneers is honored to bring to you the opportunity to purchase over 2,000 acres of contiguous southern Iowa farmland. The farm literally has it all including productive tillable farmland, excellent recreational acreage, improved pastureland and much, much more! Tract 1 offers an awesome cattle facility that features 3 monoslope buildings and a very nice shop. This is an auction that you will...
Show more
Show Less