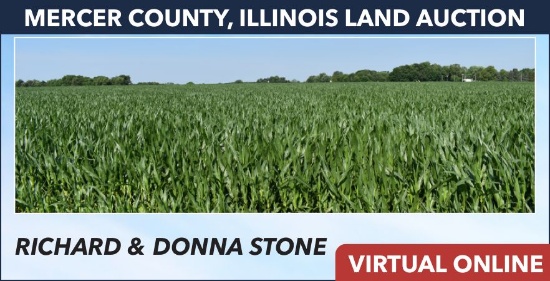 Mercer County, IL Land Auction - Stone
Friday, August 27, 2021 | 10:00 AM Central
Auction closed.
Mercer County, IL Land Auction - Stone
Friday, August 27, 2021 | 10:00 AM Central
Internet Premium:
See Special Terms for additional fees
Description
69.47 Surveyed Acres • 1 Tract

The Richard and Donna Stone farm contains 69.47 surveyed acres and will be sold in 1-tract. The farm is located at the southeast edge of Millersburg, IL, or 6 miles northwest of Aledo, 30 miles southwest of the Quad Cities, or 40 miles northwest of Galesburg, IL. The property is further described as being located in the Northwest Quarter of Section 2, T14N-R4W, Millersburg Township, Mercer County, IL.

Farmers and investors, the Stone property represents nearly all tillable, productive, Class A farmland.

Auction Manager: Dale Jones (309) 299-6400
Lot # 0 (Sale Order: 1 of 2)
This lot is informational and may be used for test bidding - place your actual bids below on Lot #1.
The Stone farm will be sold by the acre on the basis of 69.47 surveyed acres.
Immediately following the auction, the successful buyer will be required to sign a real estate sales contract and pay ten percent (10%) of the purchase price as a non-refundable down payment which will be held in escrow until closing. The balance of the purchase price will be due at closing which will take place on or before October 1, 2021. The seller will provide title insurance in the full amount of the purchase price and pay the 2021 real estate taxes, due and payable in 2022. Possession at closing subject to the existing crop tenancy for the 2021 crop year only.
Bidding is NOT subject to the following contingencies, including but not limited to financing, an appraisal or inspection of the property.
All announcements made sale day take precedence over prior advertising either written or oral. The information in our brochure, in our advertisements and on our website is believed to be accurate; however, no liability for its accuracy, errors or omissions is assumed. All lines drawn on maps, photographs, drone video, etc. are approximate. Buyers should verify the information to their satisfaction. There are no expressed or implied warranties made by the seller or Sullivan Auctioneers, LLC pertaining to this property. Real estate is being sold "AS IS".
CLICK HERE TO VIEW FSA INFORMATION
CLICK HERE TO VIEW SURVEY PLAT
CLICK HERE TO VIEW PURCHASE AGREEMENT & TITLE COMMITMENT
Richard & Donna Stone
Representing Attorney:
Karl A. Bredberg
2020 SE 3rd St.
Aledo, IL 61231
Phone: (309) 582-5327
Auction Manager:
Dale Jones (309) 299-6400
Lot # 1 (Sale Order: 2 of 2)
Quantity: 69
69.47 surveyed acres
FSA maps indicate 68.13 cropland acres
Soil Productivity Index (PI): 137 (Class A)
Predominate soils include: Muscatune, Greenbush, Rozetta and Osco
120th Avenue borders the farm on the north side and several streets on the west including 140th Street
Tile and other conservation measures
Excellent, nearly all tillable, productive Class A farm
The purchase agreement will be adjusted to a quantity of 69.47 acres times the winning bid value for the final purchase amount. The bidding platform rounds the quantity value.  
$

11,400.00

x 69 = $

786,600.00

Total