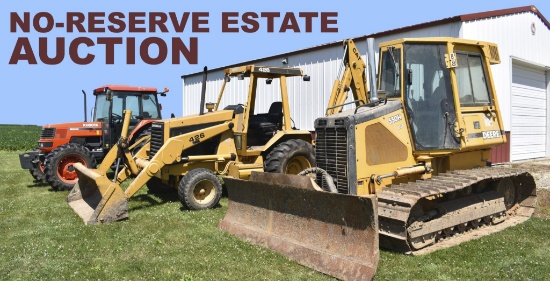 No-Reserve Estate Auction
Lots start closing Tuesday, August 18, 2020 | 10:00 AM Central
Until lots start closing.
No-Reserve Estate Auction
Lots start closing Tuesday, August 18, 2020 | 10:00 AM Central
Until lots start closing.
Description
Selling farm equipment, boat, motor & trailer, vehicle, shop tools, miscellaneous equipment and farm collectibles.

This will be a timed, online auction – no onsite bidding.

Physical Address: 578 Knox Rd. 200 St., St. Augustine, IL 61474

Inspection Date: Thursday, August 13 from 10:00 A.M. - 3:00 P.M.

Register now and make plans to participate in this online only event. Sullivan Auctioneers are paying all internet buyer's fees. Every item sells to the highest bidder. Equipment has been very well cared for and you'll find the tools and related items to be in excellent condition, as well. Internet bidding catalog will appear approximately 10-14 days prior to the auction. Not responsible for accidents, errors or omissions.

AUCTION MANAGER
Kyle Ferguson (309) 255-8353
2-hyd. outlets, 3-pt., 540 PTO, 18.4-30 rear tires, 12.4-24 front tires, (4) front weights, fully equipped cab,???? only 908 hrs., SN 54454

10? 6-way blade, 24? pads, EROPS, only 2,908 hrs., SN T0550HX886409

Cat eng., 7? material bucket, 24? backhoe bucket, 4,534 hrs., SN 7BC00324

540 PTO, hyd. adjust spout, SN 1198821, Never used!

V bow, flat bottom, sells complete with Yamaha F115 115-hp outboard motor & trailer.??This boat has many other options.? Photos & additional information coming soon!

leather interior, flex fuel, power windows, power locks, 50,360 miles, SN 1G1ZE5E01AF324662

several hundred feet of track, elaborate control board w/ dual throttles and nearly 50 toggle switches.??All sells together.? The late John Bradshaw built this over a long period of time and was constantly adding on. The new buyer will be responsible for the removal.

Closed Lots