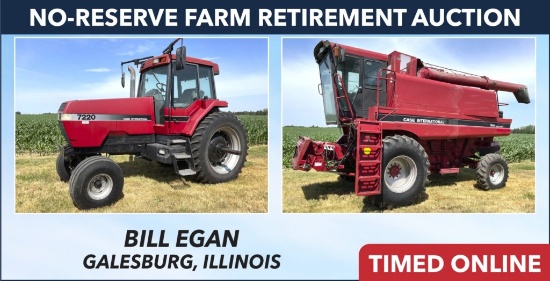 No-Reserve Farm Retirement Auction - Egan
Auction closed.
No-Reserve Farm Retirement Auction - Egan
Description
Selling tractor, combine & heads, farm equipment, livestock trailer, car, ATVs and farm support items.

Bidding closes: Thursday, August 12, 2021 starting at 10:00 A.M. CST
Timed Online Auction Format

Items are located at the farm near Galesburg, Illinois
Physical address: 1766 Log City Trail, Galesburg, IL 61401

Bill Egan – Owner
Bill's cell: (309) 342-1584

Auctioneers' Note: Bill is retiring after a successful farming career and will sell a line of well-maintained machinery at no reserve auction. These items were used on 300 acres per year. This will be a timed online auction – please visit www.SullivanAuctioneers.com for details & internet bidding catalog. Feel free to call Bill with equipment questions or to view the items. A loader & operator will be available following the auction. There is no buyer's premium. Not responsible for accidents, errors or omissions.

Auction manager: Luke Sullivan (309) 371-5214.