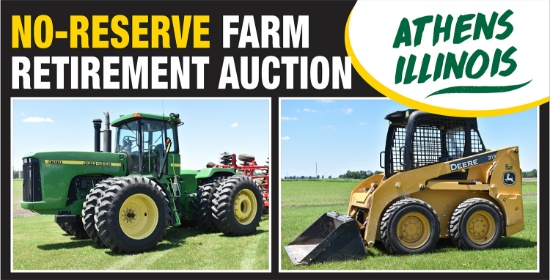 No-Reserve Farm Retirement Auction
Auction closed.
No-Reserve Farm Retirement Auction
Description
Selling grain truck, semi and hopper bottom, 4wd tractor, skid steer and sprayer, farm equipment, collector tractors, vintage farm implements, trailers, mowers, tools, attachments and farm support items.

Anyone with any questions are encouraged to contact Frank Camille at (217) 652-8217.

Loader and auction personnel will be available to assist in load out on Wednesday, August 12 from 10:00 am to 4:00 pm & Thursday, August 13 from 9:00 am to 4:00 pm.

Equipment Location: 314 600th St., Athens, IL 62613
(Athens is located north of Springfield, IL)

Please note: Lot #'s 3001 - 3042, which are toys and collectibles, have been transported to Sullivan Auctioneers, Hamilton facility. Those items can be picked up at our facility, or will be shipped out from there. Once again, do not come to the farm to pick up toys or collectibles.

This will be a timed, online only auction – no onsite bidding.

Every item will sell to the highest bidder without reserve. The modern equipment as well as the collector implements have always...
Show more
Show Less