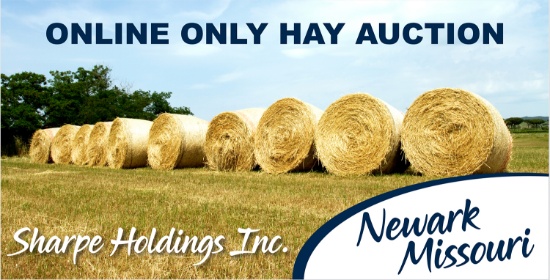 No-Reserve Online Hay Auction
Wednesday, February 12, 2020 | 10:00 AM Central
Auction closed.
No-Reserve Online Hay Auction
Wednesday, February 12, 2020 | 10:00 AM Central
Description
Make plans to participate in this online only hay auction. Bids can be placed prior-to or live during the virtual auction. Lots at each location will be offered "buyer's choice", whereas multiple lots can be purchased - this is listed in each item's description. All round bales selling are 2019 hay, 5x6 net wrap bales. Feed testing analysis is provided for each grouping of hay with links to the analysis on each lot. Loadout is provided with 24 hour notice and paid receipt. Contact auction manager, Cody Holst (217) 242-8747 with questions. For loadout assistance, call Robert Mauck (660) 216-8429.