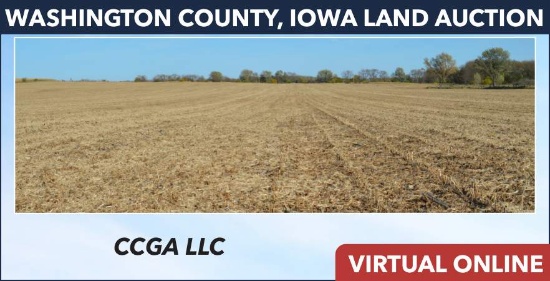 Washington County, IA Land Auction - CCGA LLC
Friday, December 4, 2020 | 10:00 AM Central
to bid until the live auction begins!
Washington County, IA Land Auction - CCGA LLC
Friday, December 4, 2020 | 10:00 AM Central
to bid until the live auction begins!
Internet Premium:
See Special Terms for additional fees
Description
65.60 Surveyed Acres (1 Tract)

The CCGA Farms LLC property is located in Section 2, Washington Township, Washington County, IA. In Washington, IA on North 12th Ave. (Riverside Dr.) proceed north 2¾ miles to Co. Rd. G36 (220th St.). Turn right or east and go 3 miles to Redwood Ave., turn right or south and proceed a short distance to the parcel. (Be watching for presale directional signs)

Auction Managers:
Jim Huff (319) 931-9292
Jeff Hoyer (319) 759-4320
Lot # 0 (Sale Order: 1 of 2)
The CCGA LLC Farm will be sold in one (1) individual tract on a price per acre basis, based on a survey that has recently been completed. Said surveyed acres will be used to constitute the final settlement price. Bidding is NOT contingent upon financing.
Ten (10%) percent of the bid price to be due on the day of sale with the balance due in approximately 30 days, on or before Tuesday, January 5, 2021 upon delivery of a merchantable abstract and deed. Immediately following the auction, the successful bidder(s) shall enter into a written agreement with the seller. The real estate taxes will be prorated to the date of closing. Possession on the tract will be given at the time of closing subject to a farm lease for the 2020 crop year. Farm sells with full farming rights for the 2021 crop year.
All announcements sale day shall take precedence over any prior advertising either written or oral. The information in this brochure is believed to be accurate; however, no liability for its accuracy, errors or omissions is assumed. All lines drawn on maps, photographs, etc. are approximate. Buyers should verify the information to their satisfaction. There are no expressed or implied warranties pertaining to the property. This real estate is being sold "as is".


CLICK HERE TO VIEW SURVEY PLAT

CLICK HERE TO VIEW SURVEY PLAT - AERIAL OVERLAY

CLICK HERE TO VIEW PURCHASE AGREEMENT


CCGA FARMS LLC - Seller

Representing Attorney:
Joseph L. McConnell
Lloyd, McConnell, Davis & Lujan, L.L.P.
211 W Washington Blvd,
Washington, IA 52353
Phone: (319) 653-5431

Auction Managers:
Jim Huff (319) 931-9292
Jeff Hoyer (319) 759-4320
Lot # 1 (Sale Order: 2 of 2)
Quantity: 66
FSA information indicates 64.89 acres tillable currently in row crop production.
Productive Otley, Mahaska & Colo-Zook soils
CSR2 is 80!
The parcel is improved with a small amount of field drainage tile.
This tract would make an ideal location for a swine production unit or a new home building site and is in an excellent state of fertility.
Access is on the northeast by Redwood Ave.
The purchase agreement will be adjusted to a quantity of 65.60 acres times the winning bid value for the final purchase amount. The bidding platform rounds the quantity value.