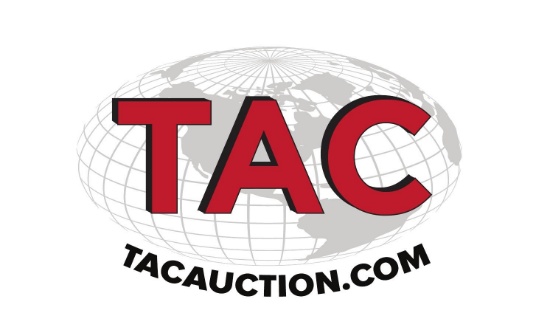 Heavy Truck and Equipment Live Virtual Auction
Wednesday, October 18, 2023 | 2:00 PM Eastern
Bidding will begin soon!
Heavy Truck and Equipment Live Virtual Auction
Wednesday, October 18, 2023 | 2:00 PM Eastern
Description
CATALOG UPDATED DAILY - Live Virtual Auction featuring: Heavy Duty Truck Repos, Medium Duty Trucks, Trailers, Heavy Equipment and much more. Featured items are located in various cities and states. NOW accepting consignments!
Lot # 1 (Sale Order: 1 of 9)
ALL UNITS ARE SOLD AS IS, WHERE IS, PLEASE SEE DESCRIPTION FOR CITY AND STATE WHERE ITEM IS LOCATED.
8% BUYERS PREMIUM ADDED TO FINAL BID PRICE
2% INTERNET PURCHASE FEE
All items purchased must be paid in full by WIRE TRANSFER ONLY. ANY PAYMENT NOT RECEIVED WITHIN 48 HOURS WILL BE CHARGED A $100 LATE FEE.
Lot # 131 (Sale Order: 2 of 9)
Make:

Western Star
Model:

4700SF
Year:

2016
Serial #:

5KJJAVDV1GLHB6842
Stock #:

JPW1519
Item Location - City:

Near Evans
Item Location - State/Province:

Georgia
Item Location - Country:

United States
2016 Western Star 4700SF Day Cab

Location: Near Evans, GA
Stock Number: JPW1519
Serial Number: 5KJJAVDV1GLHB6842
Mileage: 527,541
Engine Hours: 15,135
Engine: DD13
Transmission: Eaton Fuller 10 Speed Manual
GVWR: 52,000lbs
Inside Information: Day Cab, Cold A/C, Power Windows, Power Locks, Power/Heated Mirrors, AM/FM/CD Radio, Engine Brake
Outside Information: Air Ride Suspension, Air Slide 5th Wheel, Headache Rack, Split Tank On Right Side, External Visor, Stacked Exhaust
Wheels / Tires: Aluminum / 11R24.5
Does it Run: Yes
UNIT MUST BE REMOVED FROM PROPERTY NO LATER THAN 10 DAYS AFTER AUCTION. A STORAGE FEE OF $25 A DAY WILL BEGIN TO ACCRUE AFTER 10 DAYS UNLESS OTHER ARRANGEMENTS HAVE BEEN MADE
Contact Info
Phone: 678-329-4279
Email: support@tacauction.com
Website:
https://tacauctionservices.com
Lot # 133 (Sale Order: 3 of 9)
Model:

CASCADIA 125
Year:

2016
Serial #:

1FUJGLDR7GLGV7411
Stock #:

JPW1515
Item Location - City:

Near Savannah
Item Location - State/Province:

Georgia
Item Location - Country:

United States
2016 Freightliner Cascadia 125 Sleeper Truck

Location: Near Savannah, GA
Stock Number: JPW1515
Serial Number: 1FUJGLDR7GLGV7411
Mileage: 689,051
Engine Hours: 18,148
Engine: DD15
Transmission: Automatic
GVWR: 52,000 lbs, Front 12,000 lbs, Rear 40,000 lbs
Inside Information: Sleeper Cab, Cold A/C, Power Windows, Power Locks, Heated Mirrors, High Back Air Ride D/S and P/S, AM/FM Radio, Engine Brake
Outside Information: Air Ride Suspension, Air Slide 5th Wheel, Hood Mounted Mirrors, Horizontal Exhaust
Wheels / Tires: Aluminum Outers / 295/75R22.5
Does it Run: Yes
Does it Drive: Yes

Notes
See Video 1
See Video 2
See Video 3
Check Engine Light On
Emissions Bypassed - Buyer Assumes Responsibility
See Photos For Imperfections
UNIT MUST BE REMOVED FROM PROPERTY NO LATER THAN 10 DAYS AFTER AUCTION. A STORAGE FEE OF $25 A DAY WILL BEGIN TO ACCRUE AFTER 10 DAYS UNLESS OTHER ARRANGEMENTS HAVE BEEN MADE
Contact Info
Phone: 678-329-4279
Email: support@tacauction.com
Website:
https://tacauctionservices.com
Lot # 134 (Sale Order: 4 of 9)
Model:

CASCADIA 125
Year:

2016
Serial #:

3AKJGLD54GSGV7500
Stock #:

JPW1516
Item Location - City:

Near Savannah
Item Location - State/Province:

Georgia
Item Location - Country:

United States
2016 Freightliner Cascadia 125 Sleeper Truck

Location: Near Savannah, GA
Stock Number: JPW1516
Serial Number: 3AKJGLD54GSGV7500
Mileage: 840,861
Engine Hours: 26,708
Engine: DD15
Transmission: Eaton Fuller 10 Speed Manual
GVWR: 52,000lbs
Inside Information: Sleeper Cab, Cold A/C, Power Windows, Power Locks, Power/Heated Mirrors, High Back Air Ride D/S and P/S, AM/FM/ Radio, Engine Brake
Outside Information: Air Ride Suspension, Air Slide 5th Wheel, Side Skirts, Cab Extenders, Horizontal Exhaust
Wheels / Tires: Aluminum Outers / 295/75 R22.5
Does it Run: Yes - See Notes
Does it Drive: Yes

Notes
See Video 1
See Video 2
Check Engine Light On
Engine Shut Down Light
In Derate - Unit Will Need To Be Towed
See Photos For Imperfections
UNIT MUST BE REMOVED FROM PROPERTY NO LATER THAN 10 DAYS AFTER AUCTION. A STORAGE FEE OF $25 A DAY WILL BEGIN TO ACCRUE AFTER 10 DAYS UNLESS OTHER ARRANGEMENTS HAVE BEEN MADE
Contact Info
Phone: 678-329-4279
Email: support@tacauction.com
Website:
https://tacauctionservices.com
Lot # 182 (Sale Order: 5 of 9)
Make:

Kalmar
Year:

2008
Serial #:

11VF813E38A000747
Stock #:

JPW1499
Item Location - City:

Near Newnan
Item Location - State/Province:

Georgia
Item Location - Country:

United States
2008 Kalmar Ottawa Yard Spotter

Location: Near Newnan, GA
Stock Number: JPW1499
Serial Number: 11VF813E38A000747
Mileage: 65,927
Engine: Cummins ISB 5.9L
Transmission: Automatic
GVWR: 36,000 lbs, Front 12,000lbs, Rear 24,000 lbs
Other Information: Air Ride Seat, Heat, Heated Mirrors, Right Side Powered Mirror, Stacked Exhaust, Main Battery Disconnect
Tires: 11R 22.5
Does it Run: Yes
Does it Drive: Yes - See Notes

Notes
Check Engine Light On
Console Shift Does Not Lock When Transmission Is Put Into Gear
Bill Of Sale Only
See Photos For Imperfections
UNIT MUST BE REMOVED FROM PROPERTY NO LATER THAN 10 DAYS AFTER AUCTION. A STORAGE FEE OF $25 A DAY WILL BEGIN TO ACCRUE AFTER 10 DAYS UNLESS OTHER ARRANGEMENTS HAVE BEEN MADE
Contact Info
Phone: 678-329-4279
Email: support@tacauction.com
Website:
https://tacauctionservices.com
Lot # 392 (Sale Order: 6 of 9)
Make:

Western Star
Model:

4900FA
Year:

2004
Serial #:

5KKHAEAS94PM95775
Stock #:

JPW1518
Item Location - City:

Near Evans
Item Location - State/Province:

Georgia
Item Location - Country:

United States
2004 Western Star 4900 FA Tri-Axle Dump Truck

Location: Near Evans, GA
Stock Number: JPW1518
Serial Number: 5KKHAEAS94PM95775
Mileage: 525,872
Engine: Caterpillar C12
Transmission: Allison Automatic
GVWR: 56,000lbs
Inside Information: Air Ride D/S, Stationary P/S, Cold A/C, Power Windows, Power Locks, Engine Brake
Outside Information: Steel Dump Bed, Electric Tarp, Drop Axle, 2-Way Gate, Spring Suspension, Stacked Exhaust
Wheels / Tires: Aluminum Outers / 11R22.5
Does it Run: Yes
Lot # 427 (Sale Order: 7 of 9)
Make:

Ford
Model:

F250 XLT
Year:

2006
Serial #:

1FTNF21546EA73927
Stock #:

JPW1501
Item Location - City:

New Zebulon
Item Location - State/Province:

Georgia
Item Location - Country:

United States
2006 Ford F-250 XLT 4X4 Service Truck

Location: Near Zebulon, GA
Stock Number: JPW1501
Serial Number: 1FTNF21546EA73927
Mileage: 272,137
Engine Hours: 6,544
Engine: V8, 5.4L
Transmission: Automatic
GVWR: 9,000lbs, Front 4,400lbs, Rear 6,100lbs
Inside Information: Cold A/C, AM/FM/CD/Bluetooth Radio, Power Windows, Power Locks, Power Mirrors
Outside Information: 8ft Koenig Service Body w/ Ladder Rack, Manual Locking Hubs, 173in Wheelbase, 4x4
Wheels / Tires: Aluminum / 265/70 R17
Does it Run: Yes
Exhaust Leak
See Photos For Imperfections

UNIT MUST BE REMOVED FROM PROPERTY NO LATER THAN 10 DAYS AFTER AUCTION. A STORAGE FEE OF $25 A DAY WILL BEGIN TO ACCRUE AFTER 10 DAYS UNLESS OTHER ARRANGEMENTS HAVE BEEN MADE
Contact Info
Phone: 678-329-4279
Email: support@tacauction.com
Website:
https://tacauctionservices.com
Lot # 470 (Sale Order: 8 of 9)
Make:

Ford
Model:

Bronco
Year:

1996
Serial #:

1FMEU15H0TLB50798
Item Location - City:

Near Douglasville
Item Location - State/Province:

Georgia
Item Location - Country:

United States
Stock #:

JPW1502
1996 Ford Bronco 4X4

Location: Near Douglasville, GA
Stock Number: JPW1502
Serial Number: 1FMEU15H0TLB50798
Mileage: Odometer Reads 116,750
Engine: V8, 5.8L
Transmission: Automatic
Other Information: 4x4, Manual Locking Hubs, 105in Wheelbase, Spare Tire, Power Windows, Power Locks, AM/FM Cassette Radio, Overdrive
Wheels / Tires: Steel / 31x10.50 R15
Does it Run: Yes
Lot # 866 (Sale Order: 9 of 9)
Make:

Generac
Model:

230
Serial #:

2049919
Item Location - City:

Near Mobile
Item Location - State/Province:

Alabama
Item Location - Country:

United States
Stock #:

JM130
Generac 230KW Generator

Location: Near Mobile, AL
Stock Number: JM130
Serial Number: 2049919
Model: 99A04464S
Engine: Mitsubishi 12L
Hours: Meter Reads 469
Other Information: 3 Phase, 60 Hertz, 120/208 Volts, Diesel, Enclosed
Does it Operate: Yes

Notes
See Video
See Photos For Imperfections

UNIT MUST BE REMOVED FROM PROPERTY NO LATER THAN 10 DAYS AFTER AUCTION. A STORAGE FEE OF $25 A DAY WILL BEGIN TO ACCRUE AFTER 10 DAYS UNLESS OTHER ARRANGEMENTS HAVE BEEN MADE

Contact Info
Phone: 678-329-4279
Email: support@tacauction.com
Website: https://tacauctionservices.com