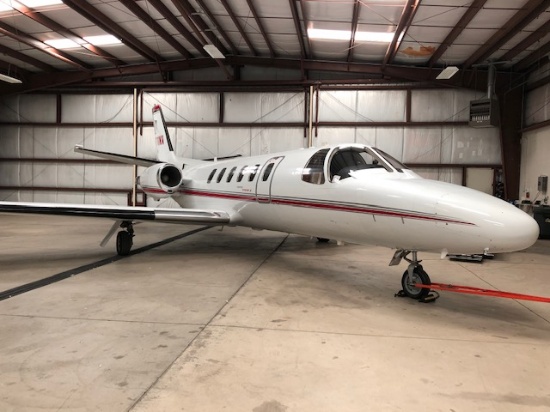 State of Nevada NDOT Cessna Citation Closes 12/16
Bidding ends Wednesday, December 16, 2020 | 1:00 PM Pacific
Auction closed.
State of Nevada NDOT Cessna Citation Closes 12/16
Bidding ends Wednesday, December 16, 2020 | 1:00 PM Pacific
Internet Premium:
13%
See Special Terms for additional fees
2 Minute Extended Bidding
Description
Cessna Citation Jet - Located in Carson City, Nevada. $10,000.00 deposit required to bid. 13% buyer's fee. Balance due within 48 hours of the close of the auction. Please review all terms of sale prior to registering to bid.

Notice: To allow more time for preview of the aircraft and allow more time to receive the new N number (all due to Covid issues), the State of Nevada NDOT has decided to extend the auction for an additional time period. The new closing date will be Wednesday, December 16, 2020 at 1:00PM Pacific time. To schedule an appointment for preview, contact Mike McKee at 855-317-5133 no later than December 14th 2020.
Make:

Cessna
Year:

1987
Serial Number:

550-0557
Total Time:

12,680
Engine:

P&W JT15D-4
Total Airframe Time:

12,680
Log Book Included:

Yes
Item Location - City:

Carson City
Item Location - State:

Nevada
Item Location - Country:

United States
Item Location - Postal/Zip Code:

89712
1987 Cessna Citation 550


Registration Number:  N711NV Notice: To allow more time for preview of the aircraft and allow more time to receive the new N number (all due to Covid issues), the State of Nevada NDOT has decided to extend the auction for an additional time period. The new closing date will be Wednesday, December 16, 2020 at 1:00PM Pacific time. To schedule an appointment for preview, contact Mike McKee at 855-317-5133 no later than December 14th 2020. (Note:  The current registration number will be retained by the seller.  Seller has submitted an application for a new N number to the FAA. The FAA is running behind schedule issuing new N numbers.  If the auction is completed prior to the new N number installation, Auctioneer will hold buyers funds until the new N number is installed.  The title transaction process will be completed electronically by AIC Title.)
Serial Number:  550-0557
Engines:  Model P&W JT15D-4

Details:
Avionics: (New install October 2019)
- Dual Garmin G700 Txi
- Dual Garmin GTN750
- Garmin Flightstream 510
- Garmin GDL69A SXM Weather
- Garmin GWX75 Radar
- Garmin FMA35C Audio Panel
- Garmin GTX345 Transponder (ADS-B In/Out)
- Garmin GTX335 Transponder
- Sperry SPX500 Autopilot/Flight Director
- Jettech FD/AP Annunciator
*NOTE:  SEE AVIONICS LISTS IN PHOTOS AND THE AIR WORTHINESS FAA REPAIRS AND ALTERATIONS DOCS BELOW FOR MORE INFO.

Hours/Cycles:

A/C TT: 12680
- Eng 1: 12564
- Eng 2: 12512
- A/C Landing cycles: 13643
- Eng 1 Cycles: 13558
- Eng 2 Cycles: 13503
*NOTE: SEE 24 MONTH INSPECTION DUE LIST PDF BELOW.
* ALSO CESCOM 10 REPORT BELOW.

Nevada NDOT has owned the aircraft since new.  Log books included since new.

ATTENTION: THE INFORMATION LISTED HAS BEEN PROVIDED BY REPRESENTATIVES OF THE SELLING AGENCY. THE BUYER MUST VERIFY ANY AND ALL INFORMATION TO THE BUYERS SATISFACTION PRIOR TO BIDDING AND PURCHASING AT THIS AUCTION. REMEMBER THIS SALE IS AS-IS AND WHERE-IS. SEE TERMS AND CONDITIONS.

-Buyer will be required to sign and return the Attachment AA to Bidder Contract for the sale and purchase of aircraft.

- $10,000.00 deposit required to bid.  This can be accomplished once bidding opens in the online registration process via credit card.  Otherwise bidder will be required to submit a deposit via wire transfer.

-Payment is due within 48 hours following the auction by Wire Transfer.  Wire instructions will be included with the invoice from the auctioneer.

-Once payment is received by Auctioneer, (N number installed) the aircraft will be moved out of the NDOT hangar and located on the ramp at the KCXP (Carson City) Airport.  The aircraft is the responsibility of the buyer once sold by the Auctioneer. REMOVAL: Buyer must remove the aircraft or any other purchase or make other arrangements with the local airport operator or FBO once payment is received by the Auctioneer. Merchandise becomes the full responsibility of the buyer at time of his/her successful bid is accepted by the auctioneer. Buyer assumes all risk of loss and damage to property.

-IMPORTANT- Review all terms and conditions prior to bidding.
Attachment AA to Bidder Contract for Aircraft rev.pdf
Title Report - N711NV SN 550-0557 AIC-144264-4444-225614.pdf
711NV-REGISTRATION.PDF.pdf
711NV-AIRWORTHINESS FAA DOC Repairs and Alterations.PDF
24 Month Inspection Due List N711NV.PDF
CESCOM10_550-0557.pdf