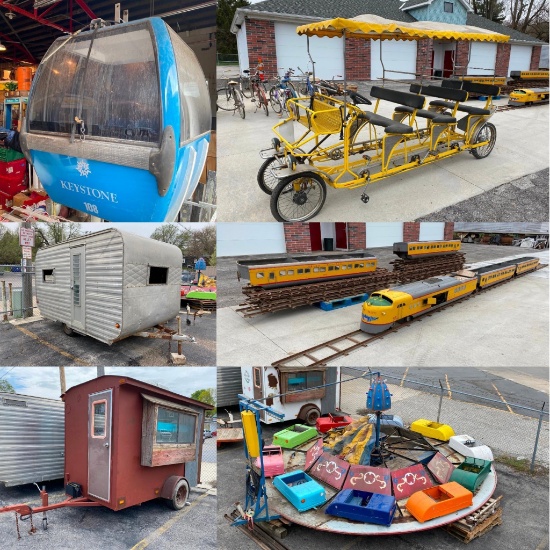 1950's Amusement Park Rides, MTC G12 UP Train +++
Lots start closing Sunday, July 5, 2020 | 7:00 PM Central
Until lots start closing.
1950's Amusement Park Rides, MTC G12 UP Train +++
Lots start closing Sunday, July 5, 2020 | 7:00 PM Central
Until lots start closing.
Internet Premium:
16%
See Special Terms for additional fees
Description
Rare auction featuring a Union Pacific MTC G12 Train and Train Cars, 1950's Rotating Amusement Park Car Ride, Six Person Cycle Made in Italy, Several Vintage Bicycles, Small Retro Vintage Campers and Trailers and Much More.
Called the Canned Ham for its distinctive shape. All aluminum outer, window, interior and floor has been restored. Underside and tires have all been updated. Originally produced in the 1960's in Fremont, Nebraska. No Title, Buyer Will Receive a Bill of Sale.

AC on Top, Tires are Good, Has a built in sink and components. Ready for your custom build.

Originally Purchased and Shipped from Italy, Yellow Six Seat Quadricycle. Complete with Top in Good Clean Working Condition. Has been in storage for ten years.

Vintage MTC G12 Miniature Train Company Train and G12 12 in Track. Engine, 3 Passenger Cars and a Tail Car. Runs on Gas Engine. Approximately 570 Feet of Metal 12 GG Track. Orginally used at SOKOL PARK in Bellevue, NE in the late 1950.

Train has been in storage for the past 20 years. Very good condition considering the era of the late 1950's. Original UP Color and Paint.
Includes All the Trucks for Under the Train Except One. Engine has not been run or tested in the last 20 years.

Each car could seat two small children. 110v Electrical Powered, Spindle Tower has Light-Up Top w/ Colorful Painted Canvas Cover for Framework. Mobile Knock Down and Fold Up Ride on Trailer Approx. *** Feet in Diameter. Circa 1950's, With a Little Restoration and Tune Up Will be Fully Operational and Ready to Roll!

The Ten Pressed Steel Cars were each painted by Duncan Aviation w/ Decals of Duncan Aviation. Sits on a Dual Trailer with Fold Down Sides for Simple Transportation. We believe ride is from either the 1950's or 1960's. Very Rare Amusement Park Ride from the Era.

This is an original Keystone Ranch Colorado Ski Gondola. Purchased in 2005 by its owner. Sat in Frisco Colorado Lodge home as a Gazebo. Complete with six seats and outside placement for skis. Pneumatic Doors work in Unison like the did on the slopes. All Fiberglass and Metal Construction. Heavy Duty for Outside Use. Paint and Structure in Original and Very Good Condition.

Closed Lots