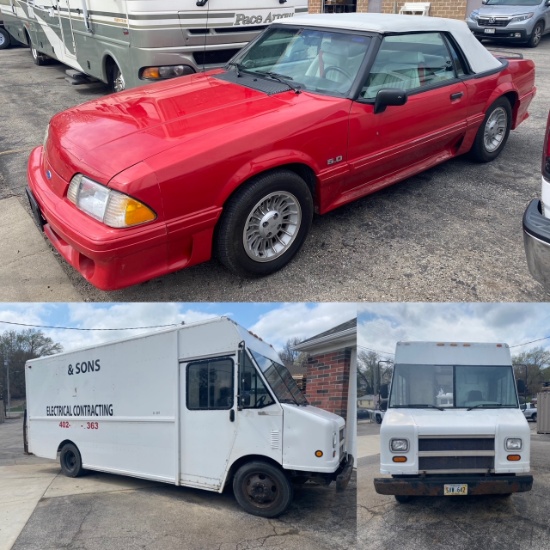 Mustang Convertible, Chevy Utilimaster Bread Truck
Thursday, April 22, 2021 | 6:30 PM Central
Auction closed.
Mustang Convertible, Chevy Utilimaster Bread Truck
Thursday, April 22, 2021 | 6:30 PM Central
Description
1999 Ford Mustang 5.0 GT Convertible w/ New Engine, 1999 Chevy Utilimaster Bread Truck - Both Run Good.

Visit the Auction Mill on Weekdays from 1pm to 4pm for preview and inspection.

These few items are in conjunction with a live onsite auction where many more items are sold onsite. You can attend in person or bid on these vehicles online.
Lot # 1 (Sale Order: 1 of 4)
This auction features a lot of great antiques, coins, currency, silver, Husker memorabilia, antiques, tools and more.

Lot # 2 (Sale Order: 2 of 4)
New 8 Cylinder 302 Gas Engine Installed Less than 3,000 Miles Ago, Miles on the Odometer Exempt, Owner Estimates Mileage at Less than 80,000 Miles.

$8,948.36 in Recent Repairs on August 2016 & October 2017 Repairs by The Car Shop in Omaha, NE
Engine, Radiator, Belts, Hoses, Oil Flushes, New Fluids, Platinum Spark Plugs, Fuel Pump, Ignition Wire, Fuel Filters, Motor Mounts, Gaskets, Distributor Caps, Rotors, Thermostat, Water Pump, Fuel Filter and More

Buyer will receive all service records and history we have including the receipts for above repairs.



VIN: 1FACP45E8LF190447

Power Seats, Power Mirrors, Power Locks, Leather Interior, Convertible, Runs Great, Open Gap Between Driver's Window and Rear Window of About 1/4in.

This item is from an estate, we don't have personal experience with the car, we encourage all potential buyers to come look and inspect in person. You can inspect and preview the car any weekday 1pm to 4pm at the Auction Mill.

Lot # 3 (Sale Order: 3 of 4)
Clean Step Van / Bread Truck, Runs Good, Diesel Engine, 174,635 Miles, Clean Straight Body, Roll Up Rear Door. Would make great food truck or delivery van.

Service Records From Bauer Built Tire and Omaha Truck Center Include Well Over $6,000.00 in Maintenance Upgrades, Repairs and Improvements - New Owner Will Receive All Service Records We Have.




VIN: 1GDKP32Y8X3501148