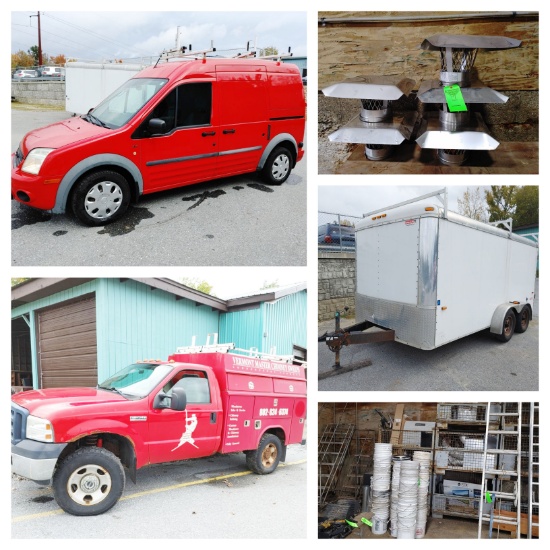 (1352) Vehicles, Trailer, Tools & Chimney Service
Auction closed.
(1352) Vehicles, Trailer, Tools & Chimney Service
Description
By Order of the Bankruptcy Court: Vehicles, Trailer, Tools, Chimney Service Items
Partial List, subject to change:

2007 Ford F350 XL Super Duty
2012 Ford Transit Connect XLT Cargo Van
Haulin Tandem Axle Trailer
Chimney Inserts and Flex Liners
Ladders
Ahrens Chamber-Tech 2000
(32+/-) Empty 5 Gallon Pails
Chimney Caps
DeWalt, Makita, Craftsman and Bosch Tools
Safety Harnesses w/ Shock Lanyards
Respiratory Safety Devises
Lyemance Energy Saving Damper
Stainless Steel Adapters, Roofing Components & More
Storm Stainless Steel Wire & Hose Clamps
Fireplace Gasket Rope
Toro Electric Blower Vac
MD 48152 Electric Mixer
Circuit Specialist Anemometer
Dwyer Magnehellic Differential Pressure gage
Fasteners & Cases, Masonry Tools, Hand Tools
Bucket Buddy, Bags & Spray Adhesives
Heat Shield Flue Sealant & Flashing Repair Coating
Ro-Vac Systems Vacuum Cleaners
Battery Operated Rivet Gun
Skilsaw 5680 7 1/4" Circular Saw
Asst. Flue Plugs
Wall Support...
Show more
Show Less