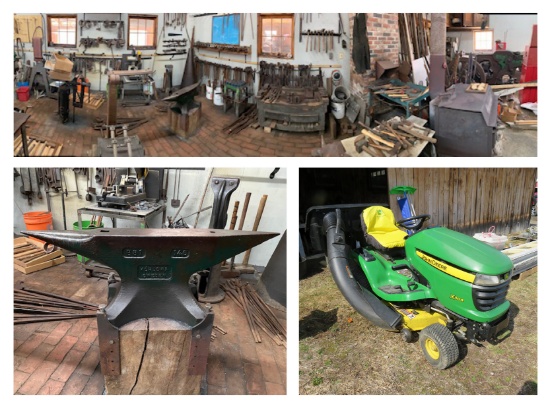 (1374) Blacksmith Shop, Can Am Spyder, JD Tractor
Auction closed.
(1374) Blacksmith Shop, Can Am Spyder, JD Tractor
Description
We have been retained to sell a fantastic blacksmith's shop and other good things. Following is a partial list:

2015 Can-Am Spyder
(10) Coal Fired Forges
Canedy Otto Forge Blowers on pedestals
Johnson No. 133 B Five Burner Natural Gas Forge, 400K BTU
Lincoln Idealarc 400/400 AC/DC Arc Welder
Milwaukee & DeWalt Cut Off Saws
Cornwell Mechanic's Tool Box with Snap-On Top & Side Boxes
Rock River Mfg. Co. Badger No.12 Iron Worker
Monarch Machine Tool Engine Lathe, 8' bed, 18" swing
Weaver Mfg. 20 Ton Shop Press
Mayer Brothers New Little Giant Trip Hammer, > 100 hours on complete rebuild
Reiter KG Model KB1 Forging Hammer
NC Tool Company Model 4DAD-3 LP Gas Forges
Vaughans of Dudley Leg Vise & (5) Others
48" Cone Mandrel
110+ Pairs of Blacksmith's Tongs
P.F. Burke & Hinsley Blacksmith's Foot Vises
Fairbanks Platform Scale
Rockwell 7" Double End Pedestal Grinder
Craftsman 6" x 48" Vertical / Horizontal Belt Sander
Spoon Swage & Other Swage Blocks
P. S. & Wilcox No. 280...
Show more
Show Less