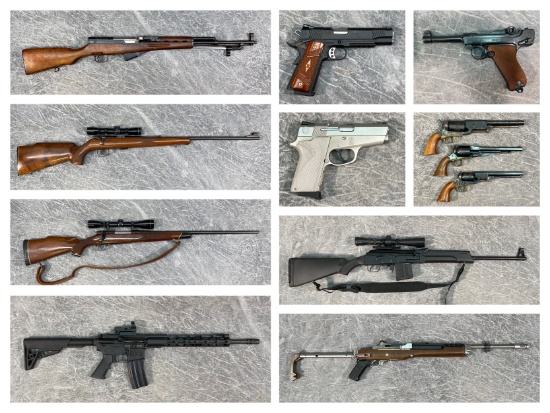 (1452) Fall Firearms
Saturday, December 10, 2022 | 9:00 AM Eastern
to bid until the live auction begins!
(1452) Fall Firearms
Saturday, December 10, 2022 | 9:00 AM Eastern
to bid until the live auction begins!
Internet Premium:
15%
Convenience Fee:
3%
See Special Terms for additional fees
Description
250+ Firearms! Current partial list includes:

Rifles:

Selection of new Vermont Prototype (Colchester, VT) VP-15 Semi-automatic Rifles
Colt SP1Semi-automatic Rifle, triangle handguard, no forward assist
AR-7 Explorer Semi-automatic Rifle
Norinco AK-47 Hunter
Marlin Model 39 Lever Action Rifle, .22 LR
French MAS-49 Semi-automatic Rifle
Ruger M77 Mark II, stainless steel, .308
Ruger Mini-14 Semi-automatic Rifle, stainless steel, folding stock
Ruger 10/22 Semi-automatic Rifles
Winchester Commemoratives
Siaga AK Semi-automatic Rifle, .308
Remington Model 81 Semi-automatic Rifle
Springfield Model 1898 Bolt Action Rifle
Enfield & Mauser Bolt Action Rifles
Savage Model 93R17 Bolt Action Rifle
Remington Model 742 Semi-Automatic Rifle
Weatherby Mark V Bolt Action Rifle, .300 Weatherby Mag.
Mossberg Model 4X4 Bolt Action Rifle
Marlin Ballard Single Shot Rifle, .44
Winchester Model 52 Bolt Action Rifle, .22 LR
Centurion M98 Mauser .30-06 conversion
Winchester Model 69A...
Show more
Show Less