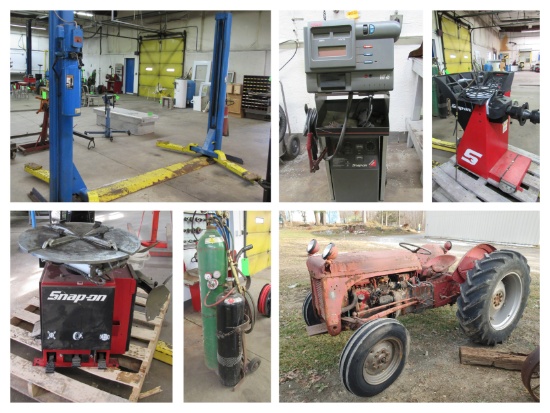 (1458) Automotive Repair Shop
Lots start closing Monday, December 12, 2022 | 10:00 AM Eastern
Until lots start closing.
(1458) Automotive Repair Shop
Lots start closing Monday, December 12, 2022 | 10:00 AM Eastern
Until lots start closing.
Description
150± lots from an automotive repair shop including Snap-On tools, lifts, and more. Items include:
Snap-On Tire Balancer
Snap-On Tire Machine
Snap-On Vacuum Evap Smoke Tester
Steel Shop Cart on Casters
Rotary 9000 lb. 2 Post Lift
Reznor RA140 Waste Oil Service with Western Maine Steel Co. 1050 Gallon Tank
Robinair Refrigerant Recovery Machine
American Lubrication Equipment Corp. Fluid Dispenser on Reel
DeWalt DW756 6" Double End Bench Grinder
Fennor 2 7000 lb Rotary Post Lift
Snap-On Fleet 200 Charging System With Sun Vat 45 Tester
Snap-On YA1001 Industrial Duty Vacuum 10 Gallon Wet/Dry
FMC 4100 Computer Wheel Balancer
Miller Millermatic 175 Wire Welder
Dyna-Clean Electric Parts Cleaning System with A Zip Wash Tank
Rotary 9000 lb. 2 Post Lift
3 Ton Long Ram Jack
Carolina 3 Ton Long Ram Jack
3 1/2 Ton Low Profile Service Jack
Sunex UES-1250 1,250 lb. Engine Stand
Spreader Bar
SPX 1791 High Lift Transmission Jack 1000 lb. Cap.
Fennor 2 Post Lift
Hi-Quality...
Show more
Show Less