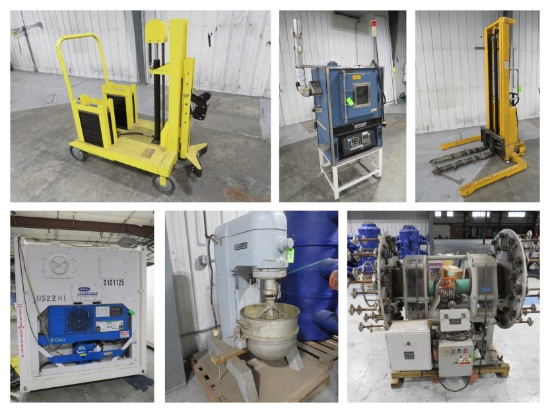 (1500) Machinery & Equipment
Lots start closing Monday, June 26, 2023 | 10:00 AM Eastern
Until lots start closing.
(1500) Machinery & Equipment
Lots start closing Monday, June 26, 2023 | 10:00 AM Eastern
Until lots start closing.
Description
60+ asst. lots of machinery and equipment. Highlights include: Uline Model H-2652 Straddle Stacker, Blue M Model MP-146C Electric Oven, Hauschild FVZ SpeedMixer, Modine Hot Dawg Hanging LP Gas Heater, John Brown Leesona Precision Winder, Hobart 60 Qt. Vertical Mixer, Thinline Portable Freezer Container, Malunas Hammer Mill, Siebring Mfg. Inc. Hot Air Furnace, LiftMaster Electric Overhead Door Opener, Aluminum Frame Solarium, ECOA Electric Hydraulic Lift Table, Blue M Model MP-336C-1 Electric Oven, Terra Universal Inc. Full-View Desiccator, National Appliance Co. Electric Oven, ShopBot Model CNC Router, HP-900 Reverse Osmosis System, Composite Machines Co. Mod ULD CNC Winder, VWR Scientific Model 1685 Electric Oven, Microair MC3000 Dust Collector, and Grieve Modified SA-550 Electric Oven.