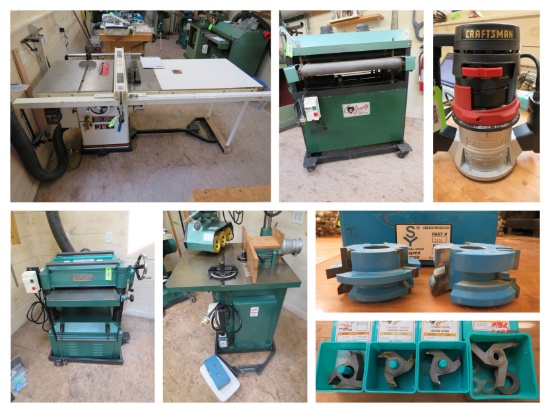 (1501) Woodworking Machinery
Lots start closing Monday, June 19, 2023 | 10:00 AM Eastern
Until lots start closing.
(1501) Woodworking Machinery
Lots start closing Monday, June 19, 2023 | 10:00 AM Eastern
Until lots start closing.
Description
100± lots of clean, well-maintained woodworking machinery and tools. Highlights: Jet JTAS-10-XL-1 10' Tilting Arbor Saw, Grizzly Model G1066 24" Drum Sander, Grizzly Mod G0506 18" Bandsaw, Grizzly Model G1026 Wood Shaper, Grizzly Mod 7947 Floor Type Drill Press, Grizzly Model G1033 20" Planer, Grizzly Dust Collector, Bosch SDS Plus Rotary Hammer, Toro Power Clear 518 ZE Snow Thrower, Maytag Upright Freezer, Traveller 12V Winch, and Whirlpool Whispure 510 Air Purifier.