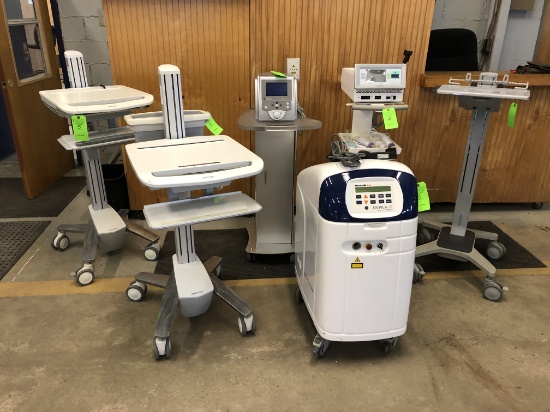 Secured Creditor: Commercial Cosmetic Equipment
Lots start closing Tuesday, January 28, 2020 | 6:00 PM Eastern
Until lots start closing.
Secured Creditor: Commercial Cosmetic Equipment
Lots start closing Tuesday, January 28, 2020 | 6:00 PM Eastern
Until lots start closing.
Description
We are pleased to present this small lineup of quality cosmetic equipment, including a Meridian Co. Lapex BCS 2000E Lipolaser, Ellman Pelleve S5-IEC HF Radiosurgical Generator w/ Attachments & Fotona Yaglasse M0001-5F 1064 Laser. Round out your small spa business with Ergotron mobile workstations!
131 Dorset Lane, Williston, VT 05495; email chris@thcauction.com for viewing appointments
131 Dorset Lane, Williston, VT 05495; email chris@thcauction.com for scheduling
s/n LBB0100244; 110V - 240V; Infared LipoLaser; spot fat and body contouring, & temporary pain relief; model year 2012
s/n 2085M2; ref num. IEC5P-ST; monopolar/bipolar; wrinkle reduction treatment with the GlideSafe(TM) handpieces; model year 2015
s/n 00000126; 230V; model year 2003; will require inspection and repair
w/ adjustable desk height & storage compartment
w/ adjustable desk height
w/ adjustable desk height
131 Dorset Lane, Williston, VT 05495; email chris@thcauction.com for viewing appointments
131 Dorset Lane, Williston, VT 05495; email chris@thcauction.com for scheduling
Closed Lots