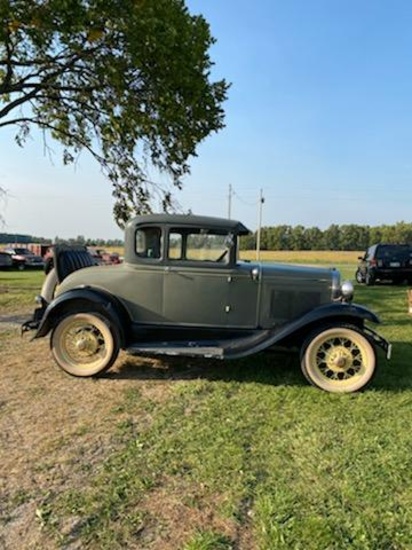 Collins Estate Farm Equipment 10/2/2020 at 10 am
Friday, October 2, 2020 | 10:00 AM Eastern
Auction closed.
Collins Estate Farm Equipment 10/2/2020 at 10 am
Friday, October 2, 2020 | 10:00 AM Eastern
Description
Collins Estate Auction
Farm Equipment
FRI., OCT 2 @ 10AM SHARP
Located: at the farm 16355 CH 71, Forest, OH. 12 Mi. SW of Upper Sandusky, OH on SR 67 to CH 71, then west 3½ mi. to auction site. (Signs Posted)
CRAWLER - (9) TRACTORS – COMBINE
A-C D15 Series II w/open station & NI Loader; A-C WD45; INT. 806 diesel w/WF, 18.4-34 rubber, fast hitch; Farmall F-20 (parts tractor); Ford 8N tractor w/ fender & original; A-C tractor (not running); INT. W9 (As-is); JOHN DEERE 4420 w/CHA, (may need new straw walkers) sells with JD 215 flex head; JD 105 Combine (As-Is for parts) ; JD 55 square back combine for parts; JD 40 Ind. Smooth track crawler w/materials bucket; homemade tractor; Farmall F12 (Parts tractor);
MOTORCYCLE – TRUCKS – ANTIQUE CAR
'30 FORD MOD. A, w/2 Dr. Hard top, rumble seats & finder running boards (works); '03 FORD F150 w/ cab & half, 2wd; '64 FORD 500 GALAXIE CONVERTIBLE (Restorable); '98 FORD RANGER XLT w/ cab & half; FORD 350 w/ 12' Midwest grain bed, (60,000 mi.); '87 FORD F150 XLT, 2wd, reg cab- Not running; '87 FORD THUNDERBIRD-...
Show more
Show Less