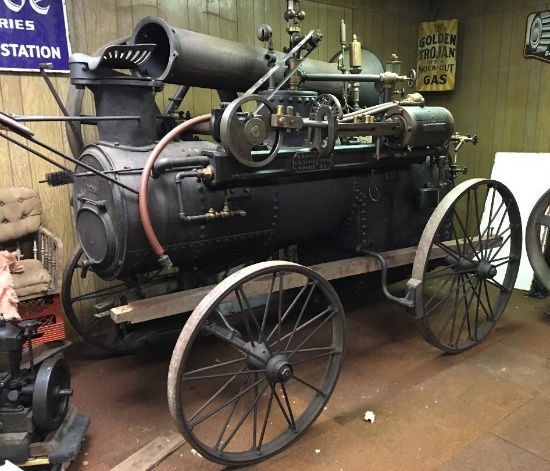 Wayne Coffman Day 4 Auction - Sept. 29th at 10am
Wednesday, September 29, 2021 | 10:15 AM Eastern
Auction closed.
Wayne Coffman Day 4 Auction - Sept. 29th at 10am
Wednesday, September 29, 2021 | 10:15 AM Eastern
Internet Premium:
10% - 15%
See Special Terms for additional fees
Description
WAYNE A. COFFMAN
Estate Auction #4
Located: 1930 West Market Street Tiffin, Ohio
WED., SEPT 29 @ 10AM SHARP
~ STEAM ENGINES ~ HIT AND MISS ENGINES ~ AUTOMOBILES/ TRAILERS ~
WOOD TABER & MORSE (TRIUMPH) STEAM ENG. (Functional); 1889 Columbia Hard Tire Safety bicycle; 1882 Columbia High Wheeler bicycle 56" (both bikes beautifully restored); 1902 LOCOMOBILE/ STANLEY STEAM ENGINE; EDISON dynamo; LIGHT PLANTS: Plix, Delco, Knight, etc.; BOAT MOTORS: Termaat & Monahan Co. 2-cylinder, Lockwood Ash, and more; HIT MISS ENGINES: Hercules 6 HP on steel wheel cart, New Way, Gray, Little Jumbo, Fair Banks Morris and more. OTHER: STATIONARY ENGINES AND MOTORS: REED, Lauson, Wisconsin, Briggs and Stratton and more.; Railroad signal lantern; Dietz lanterns; Locomotive steam head light; Pierce Arrow truck radiator; IT chain hoist; Edison Battery; MISC: steam values & pop offs; Early pictures & frames of old cars & trains.; Transformers; gauges; LICENSE PLATES: 100+ (Porcelain & Metal); CANS: Speed Oleum, Paragon, Pullman, Super High Speed, Sinclair, Marathon, Texaco,...
Show more
Show Less