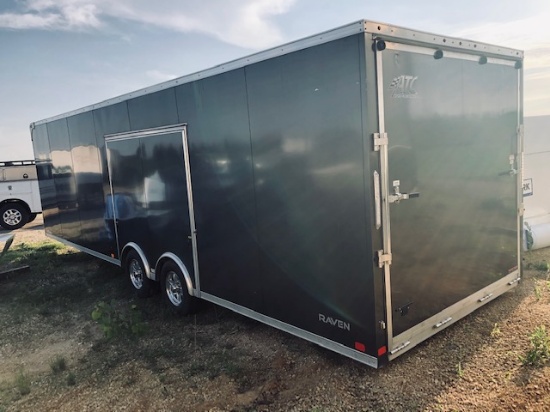 Myers Mechanical Plumbing & HVAC Equipment Auction
Tuesday, June 30, 2020 | 11:00 AM Central
Auction closed.
Myers Mechanical Plumbing & HVAC Equipment Auction
Tuesday, June 30, 2020 | 11:00 AM Central
Description
Myers Mechanical is selling excess HVAC and plumbing inventory, tools, and equipment at public auction!
Lot # 134 (Sale Order: 26 of 34)
Item Location - City:

Lancaster
Item Location - State:

Wisconsin
Item Location - Postal/Zip Code:

53813
Item Location - Country:

United States
tandem axle, LED lights, aluminum frame, trailer brakes, low miles and hardly used!
Lot # 133 (Sale Order: 27 of 34)
Item Location - City:

Lancaster
Item Location - State:

Wisconsin
Item Location - Postal/Zip Code:

53813
Item Location - Country:

United States
2003 title year; dual axle, newer tires, newer brakes, wheel drums refaced, 7' height, steel frame, trailer brakes, swing doors, ladder rack
Lot # 130 (Sale Order: 28 of 34)
Item Location - City:

Lancaster
Item Location - State:

Wisconsin
Item Location - Postal/Zip Code:

53813
Item Location - Country:

United States
Lot # 129 (Sale Order: 29 of 34)
Item Location - City:

Lancaster
Item Location - State:

Wisconsin
Item Location - Postal/Zip Code:

53813
Item Location - Country:

United States
Lot # 120 (Sale Order: 30 of 34)
Item Location - City:

Lancaster
Item Location - State:

Wisconsin
Item Location - Postal/Zip Code:

53813
Item Location - Country:

United States
2018 Model; 5 ton, 60 Hz, single circuit, R-410A, Serial # 18213195BA
Lot # 122 (Sale Order: 31 of 34)
Item Location - City:

Lancaster
Item Location - State:

Wisconsin
Item Location - Postal/Zip Code:

53813
Item Location - Country:

United States
Lot # 121 (Sale Order: 32 of 34)
Item Location - City:

Lancaster
Item Location - State:

Wisconsin
Item Location - Postal/Zip Code:

53813
Item Location - Country:

United States
(2) Stainless Steel flex connectors, (1) Sharpe 2'' anti-back flow; (7) stainless steel couplings
Lot # 132 (Sale Order: 33 of 34)
Item Location - City:

Lancaster
Item Location - State:

Wisconsin
Item Location - Postal/Zip Code:

53813
Item Location - Country:

United States
Galvanized duct work for large industrial project; both gasketed and non-gasketed; approximately (10) 24'' 90° elbows; (5) 45°; (5) 30'' x 28'' pieces; (1) 24'x30' 90°
...more
Lot # 108 (Sale Order: 34 of 34)
Item Location - City:

Lancaster
Item Location - State:

Wisconsin
Item Location - Postal/Zip Code:

53813
Item Location - Country:

United States
10+ boxes of misc. galvanized, including couplings, plugs, elbows, tees, reducers, etc. Partial list of galvanized inventory at pages 12-13 of Inventory List on Auction C
...more