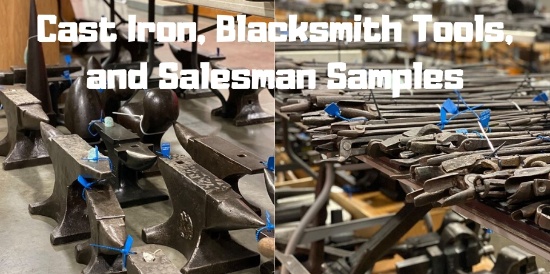 Cast Iron, Blacksmith Tools, and Salesman Samples
Friday, February 14, 2020 | 10:30 AM Eastern
Auction closed.
Cast Iron, Blacksmith Tools, and Salesman Samples
Friday, February 14, 2020 | 10:30 AM Eastern
Internet Premium:
23%
See Special Terms for additional fees
Cash Payment Discount:

3%
Description
700+ pieces of Cast Iron including Griswold, Wagner, Wapak, Etc. A few highlights include 2 – Griswold #20s, 2 - #14s, 2 - #13s, #13 dutch oven w/lid, hotel waffle iron, #2 skillet, #14 pie logo, hotel waffle, toy sets, big collection of Wapak skillets and Dutch ovens, plus many more quality and hard to find pieces. Blacksmithing, Salesman Samples, Model Engines, Bells & Steam Whistles @ 3:00: This session will feature an incredible collection of Salesman samples, Anvils and Blacksmithing tools, 25+ bells and whistles and Model engines. This will be a session unlike anything we have seen in the past. Blacksmithing & Tools: Peter Wright Anvils from 85# to 600#, Fishers, Hay Budden, Trenton, Kohlswa etc. Hardies, tongs, hammers, a nice Catseye, forges, blowers, tinner's tools, post vises, big collection of bench vises including Wilton's, Parkers, etc. excellent set of vises. Bells: A large one owner collection of bells including a 44" and a 36" church bell. Also have a nice set of bronze bells including 36", 26", 18", 12" and more expect 25 plus church, locomotive, school and dinner...
Show more
Show Less