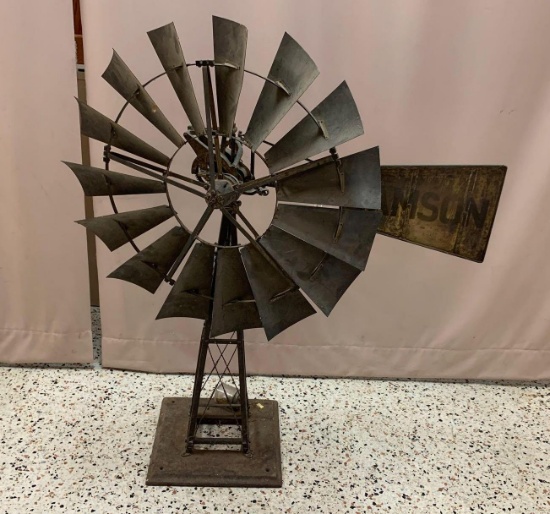 Larry Tremayne Windmill Weight Collection Auction
Saturday, June 12, 2021 | 10:00 AM Central
Auction closed.
Larry Tremayne Windmill Weight Collection Auction
Saturday, June 12, 2021 | 10:00 AM Central
Internet Premium:
17%
See Special Terms for additional fees
Description
This is the Windmill Weight Auction to End All Auctions. Larry Tremayne's Personal Collection of Windmill Weights.

Some very rare, governor and regulator weights, lightning rods and arrows, windmill wenches, vindex toys, John Deere J-D-D Windmill oil can, rare spike tooth planter row marker weights, Stover tank float, cast iron implement seats, Stover salesman sample windmill - all brass, in working condition.

• 10+ Althouse Wheeler Weights including
120 lb. model
• 8 F.W. Axtell Standard Crescent Moons
• 4 Baker cement Football weights
• Baker Battleship weight
• Baker Disc ball weight
• Baker Cast Iron Ball weights
• 5+ Batavia Success Crescent Moon weights
• 2 Breyer Brothers bell weights
• 3+ Breyer Brothers 'O' weights
• Breyer Ozark governor weight
• 6 Challenge Arrow Weights assorted sizes
• Challenge Hanger governor weight
• Challenge Star Tank Level weights
• Crane and Ordway windmill
weights assorted
• Danforth Horse Weights
• Crescent Moon Eclipse assorted wet and...
Show more
Show Less