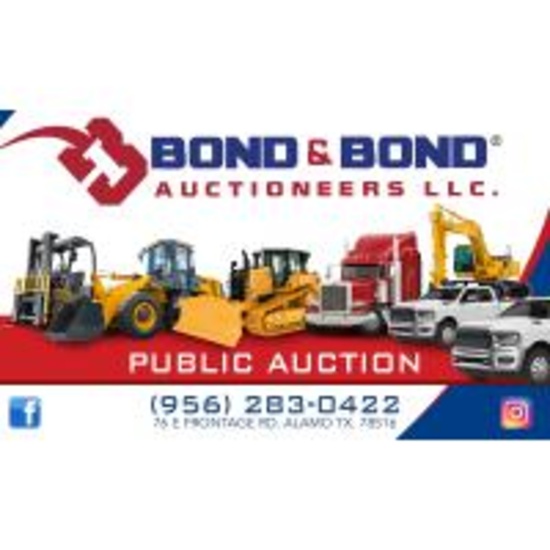 LIQUIDATION AUCTION FOR SECURITY BUSINESS
Saturday, October 1, 2022 | 10:00 AM Central
to bid until the live auction begins!
LIQUIDATION AUCTION FOR SECURITY BUSINESS
Saturday, October 1, 2022 | 10:00 AM Central
to bid until the live auction begins!
Description
Items must be paid within 48 hours of purchase at our location (2101 I-69C Edinburg, TX).
Items are to be removed from premises with a paid invoice,
Mon. – Wed., Office Hours: 9am – 4:30pm.
All items left behind will revert to Bond & Bond & your Deposit will be lost. NO Exceptions!

NOTE FOR ONLINE REGISTRANTS: $100.00 DEPOSIT WILL ONLY BE ADDED
TO YOUR INVOICE FOR THIS EVENT IF YOU PURCHASE ANY ITEMS THROUGH
PROXIBID. REIMBURSEMENT WILL BE DETERMINED WHEN ALL ITEMS
PURCHASED ARE PICKED UP AND CLEARED BY OUR STAFF, NOTHING IS TO
BE LEFT BEHIND. KEEP IN MIND THAT IF YOU PAY WITH A CARD, YOUR
REIMBURSEMENT WILL BE MAILED TO YOU IN A FORM OF A CHECK. IF YOU
COME IN IN PERSON TO PAY CASH, WE WILL THEN RETURN YOUR DEPOSIT IN
FORM OF CASH WHEN ALL ITEMS ARE REMOVED. YOU WILL HAVE
MON. THRU WED. TO CLEAR ALL ITEMS PURCHASED FROM OUR FACILITY.
WE APPRECIATE YOUR PATIENCE & THANK YOU IN ADVANCE FOR YOUR EFFORTS!

NOTE FOR LIVE REGISTRANTS: $100.00 DEPOSIT UPON REGISTRATION FOR
THIS EVENT. REIMBURSEMENT WILL...
Show more
Show Less