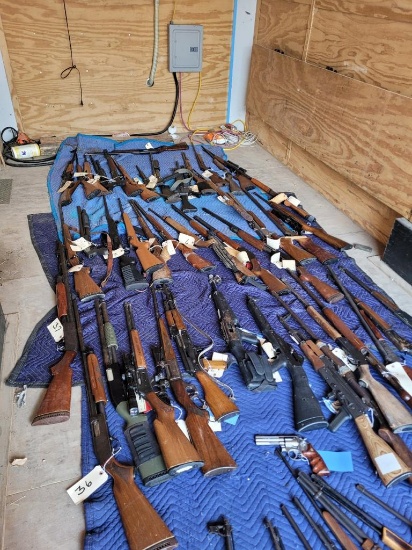 UNRESERVED SEIZED FIREARM AUCTION
Tuesday, July 5, 2022 | 10:00 AM Central
Auction closed.
UNRESERVED SEIZED FIREARM AUCTION
Tuesday, July 5, 2022 | 10:00 AM Central
Description
UNRESERVED SEIZED FIREARM AUCTION
CONSIGNMENTS WELCOMED

*NOTE: Please keep in mind that if you purchase a Firearm, you will need to fill out an ATF Form 4473 and instructions on your paid invoice will instruct you to pick up firearm at a certain gun shop with a Brady form to be completed as well. $20 LEO, $25 w/CHL, $40 without.
Out of state buyer's will need to pay a shipping fee to the gun shop that is holding the firearm and will then need to contact a local dealer from where they're from and pay a transfer fee to that dealer to receive it.
(For shipping assistance that may consist of 1 or more pallets,  contact GULF TRANSPORT (956) 399-7513 and ask for Mandy).

Mossberg 12 Ga. Shotgun
Springfield .22 Cal Rifle
Marlin .22 Cal Rifle
Glendfield .22 Cal Rifle
Remington .22 Cal Rifle
Marlin 30-30 Cal Rifle
Mossberg 12GA Shotgun
Springfield 20GA Shotgun
Marlin .22 Cal Rifle
New England 12 GA Shotgun
Savage 300 Cal Rifle
Winchester 12 GA Shotgun
Bratech 410 GA Shotgun
Marlin 410 GA...
Show more
Show Less