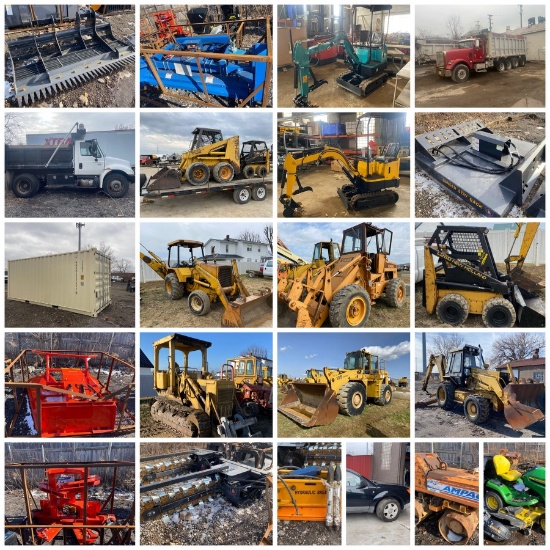 17th Annual LIVE Spring Auction
Friday, March 31, 2023 | 10:00 AM Eastern
to bid until the live auction begins!
17th Annual LIVE Spring Auction
Friday, March 31, 2023 | 10:00 AM Eastern
to bid until the live auction begins!
Description
LIVE w/ Online Bidding 17th Annual Spring Cuy County Equipment/Machinery Consignment Auction

Friday, March 31st @ 10am.

Open week of sale for preview 10am-4pm (Day of sale-8am)

16100 South Waterloo Rd. Cleve. 44110

This is our biggest auction of the year here at the yard! Call or text Buddy @ 330-464-1375 or Marvin @ 216-496-4444 to consign today!

A record (5) 40ft Shipping Container Loads are already consigned into this sale on On-site!

Heavy Equipment: Cat 446B 4x4 Backhoe, New Holland L250 Mini Skidloader, Case 1835 SkIdloader, Gehl 5625SX SkIdloader, Ditch Witch 4010 4x4 Diesel Trencher, Ditch Witch R65 Gas 4x4 Trencher, Michigan/Clark AWD/AWS Wheel Loader, Cat 922 Traxcavator Wheel Loader, Hough/International H30 Diesel Pay Loader, Ford 455D Backhoe, Coyote AL630 Articulating Wheel Loader, John Deere 410C Backhoe, Ampac Co P33/24 Ditch Compactor, (2) New Agrotk YM12 Gas Powered Mini Excavators, New Holland LS180 SkIdloader, Cat 951C Track Loader, Michigan Clark 125 Wheel Loader

Contractor...
Show more
Show Less