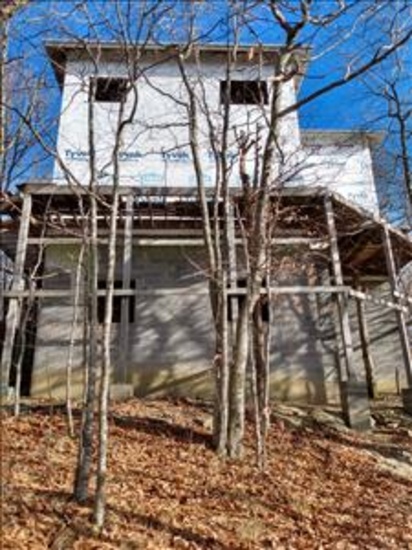 On-line Auction for Home Under Construction
Bidding ends Tuesday, January 14, 2020 | 8:00 PM Eastern
Auction closed.
On-line Auction for Home Under Construction
Bidding ends Tuesday, January 14, 2020 | 8:00 PM Eastern
Internet Premium:
10.00%
See Special Terms for additional fees
Description
Imagine having your own tree top home with spectacular mountain views! Property is located at 107 Spruce Hollow Road in the mountain resort community of Beech Mountain. From the second floor you have stunning views of multiple mountain ranges in Tennessee and Virginia, located at an elevation of ~5,200 feet on a .44 acre sloping lot. Home has ~2,316 SF and was originally designed to be a 3 bedroom, 3 bath home, but can be easily adapted to whatever you desire! Current floor plan includes a garage, basement and two main levels. Each floor has 9'4" ceilings with the lower floor ideal for a den with fireplace, two bedrooms and two full baths. The upper floor could be utilized as the main living area, with a great room, kitchen/dining area, one bedroom and bath, and fireplace. This would maximize the view potential from the home, which has plans for several sliding glass doors, and 3' and 4' windows. The home was designed to have a combination of wood decks and covered porches. The home is solidly constructed with a concrete block foundation. The exterior is plywood with a weather...
Show more
Show Less
Imagine having your own tree top home with spectacular mountain views! Property is located at 107 Spruce Hollow Road in the mountain resort community of Beech Mountain. From the second floor you have stunning views of multiple mountain ranges in Tennessee and Virginia, located at an elevation of ~5,200 feet on a .44 acre sloping lot. Home has ~2,316 SF and was originally designed to be a 3 bedroom, 3 bath home, but can be easily adapted to whatever you desire! Current floor plan includes a garage, basement and two main levels. Each floor has 9'4" ceilings with the lower floor ideal for a den with fireplace, two bedrooms and two full baths. The upper floor could be utilized as the main living area, with a great room, kitchen/dining area, one bedroom and bath, and fireplace. This would maximize the view potential from the home, which has plans for several sliding glass doors, and 3' and 4' windows. The home was designed to have a combination of wood decks and covered porches. The home is solidly constructed with a concrete block foundation. The exterior is plywood with a weather sheath material over the plywood. The roof also has plywood and frost proof material that has sealed the roof. The shell is in good condition. City water and sewer. Owner will have option to join The Beech Mountain Club which is a private club for $1,645 a year. Club facilities include a golf course, clubhouses, cafe, tennis courts, heated swimming pool, clubhouse at Ski Beech, fitness center and other club activities. Appraisal confirmed "in place as is" in 2019 for 150,000 for house and 75,000 for land for a total of $225,000. see attached appraisal below. Also see the attached City Inspection Report of condition as property as is at this time. Will sell at $75,000 or any bid above that! Broker co-op 2%
Appraisal
Building Inspection Report