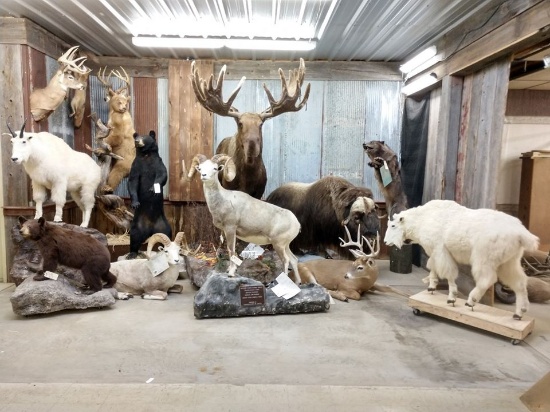 Spring Whitetail Classic Day 2 Taxidermy & Decor
Saturday, June 6, 2020 | 9:00 AM Central
Auction closed.
Spring Whitetail Classic Day 2 Taxidermy & Decor
Saturday, June 6, 2020 | 9:00 AM Central
Internet Premium:
18%
See Special Terms for additional fees
Description
Saturday June 6, 2020 starting at 9am CST Taxidermy & Decor Auction
Taxidermy mounts from North America & around the world. (Including antlered specimens), tanned furs, fish mounts, rustic decor, log furniture & log home decor, antler lighting & MORE!!!


Buy it now items on all uncatalogued items starts on Thursday June 4, 2020 at 5PM CST. Not all poundage are cataloged plan to attended.

Make sure you check all 3 days for the sale you don't want to miss this sale!

Big 3 day sale

Friday June 5, 2020 starting at 9am CST for the BIG ANTLER AUCTION.
Trophy Antlers, sheds, poundage, whitetail, moose, elk, fallow, axix, sika and more!!!


Sunday June 7, 2020 starting at 9AM CST Guns & Sporting Goods Auction
Starting with guns (our sales have averaged around 150 guns) vintage & collictible sporting goods, boats, canoes, 4-wheelers, & outdoor fun items, antique americana, and more!