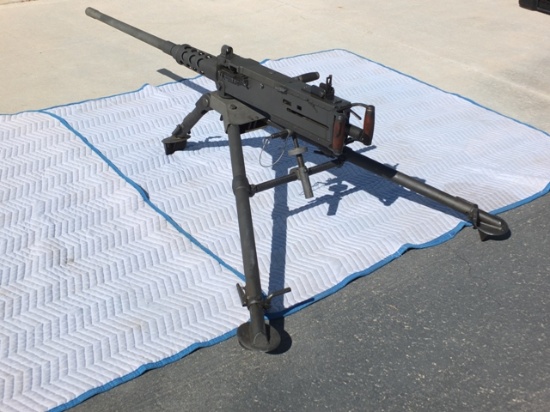 Ramo M2 Class III 50 BMG Machine Gun
Bidding ends Thursday, December 6, 2018 | 4:00 PM Mountain
Internet Premium:
13%
See Special Terms for additional fees
Cash Payment Discount:

3%
1 Minute Extended Bidding
Description
Ramo M2 Class III 50 BMG Machine Gun - Timed Online "No Reserve" Auction Closing Thurs, Dec. 6th, 4:00pm MST. Preview: Fri, Nov. 30th, 12-5pm, at Corbett Auctions Facility, 547 E Stagecoach, Kuna, ID
**This is a Chapter 7 Bankruptcy Trustee Liquidation Auction with No Reserve** Excellent to like new example of a current production, full automatic M2 "MA-Deuce" 50 cal...more Browning machine gun, manufactured by the RAMO company of Nashville Tennessee. You will recognize this as the famous "MA-Deuce" M2 HB MG. This model was originally developed by John Browning in the late 1920s, and used in major battles by all U.S. Forces & countless allies throughout the post WWI time frame. This type of gun has been mounted and used on both vehicles, tanks, and aircraft. This specific gun was manufactured by the RAMO company, using newly made commercial parts built on one of their new RAMO receivers. The right side of the receiver is marked SER. NO. 003913, MACHINE GUN CAL 50 M2, MANUFACTURED BY RAMO MANUFACTURING INC., NASHVILLE, TN., U.S.A over the Elephant logo. This is a fully functional M2, a complete M3 50 cal tripod that is marked on top "MOUNT TRIPOD/MG. CAL 50 M3", along with T&E mechanism and pintle MFG CODE 97001. This is a complete and fully functional, full automatic M2 machine gun, currently registered with the ATF.