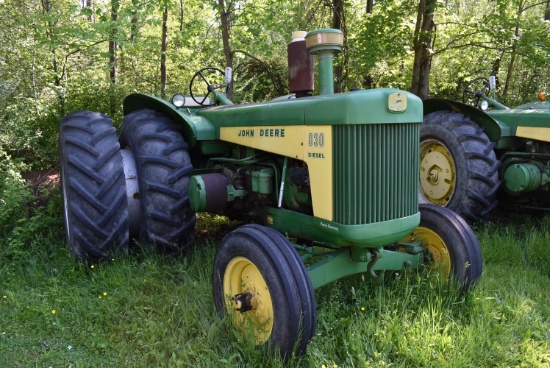 Farm Dispersal Auction for David & Spence Parsons
Saturday, June 25, 2022 | 9:00 AM Eastern
Auction closed.
Farm Dispersal Auction for David & Spence Parsons
Saturday, June 25, 2022 | 9:00 AM Eastern
Description
Selling tractors, trailers and various equipment from the dispersal of a 5th generation farm.

Saturday, June 25, 2022 · 9:00am

Auction Preview: Friday, June 24th from 12 noon to 6:00pm

6412 County Road 32
Canandaigua, NY 14424

Tractors: JD 830 diesel pony motor SN 8305928, 18.4x34 duals; JD 830 diesel SN 8305929, 3 sets back weights, front wheel weights, rebuilt transmission, NOTE: Consecutive Serial #'s, nice straight sheet metal on both, older restorations; 1973 Oliver 1855, front weights, 5,398hrs, 18.4x34 duals sell separately; JD 50 nfe, #45 loader w/bale spear, SN 5027119, JD lifting boom; JD 40-S, wfe; AC C, nfe; AC C nfe 6' mounted sickle mower; Farmall Super A; Oliver 77 wfe, SN 324136B; JD 720 diesel, wfe, back end issues; Farmall 340 wfe, SN 5109-S, 2,343 hrs; Farmall 400 wfe;

Misc. Power Equipment: Chevy 2500 HD pickup, currently not running, good power train, bad frame, Boss 8' Super Duty snow plow (sells separate); JD 55 combine, 13' header, cut wheat in 2021, S/N 78540, 1,480hrs; JD 420 crawler...
Show more
Show Less