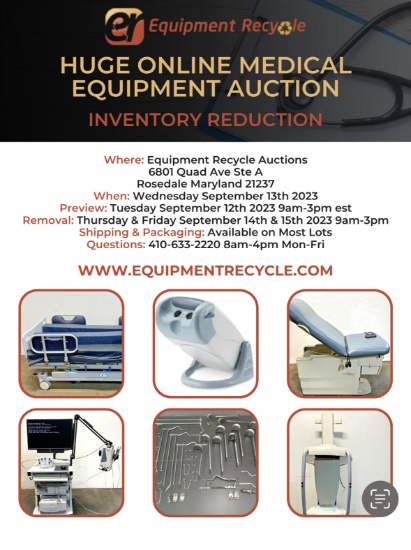 Ring 2 Medical Laboratory Hospital Dental Auction
Auction closed.
Ring 2 Medical Laboratory Hospital Dental Auction
Description
More lots coming !!!!!!!!!!!!!!!
Very low reserves !!!!!!!!!!
Shipping available on everything !!!!!!!

Medical, Dental, Hospital, Surgical Tools, Instruments, Scopes, Physical Therapy, CPR Training, Beds, Exam Tables, Lab Hoods, Blood Analyzer, Convatec, Laerdal, Meti Sim, Midmark, Medline, Abbott, Karl Storz, Smith & Nephew, Welch Allyn, Mueller, Amico, Ohmeda, Codman, R. Wolf, Karl Storz, Snythes, Da Vinci, Olympus, Bard, Jarit, Drager, Steris, GE Mac, Carescape, Novametrix, Ambu CPR, CasMed, MAda Inc, Hanau, Philips, Howmedica, Danek, Waterloo, Zimmer, Invacare, Topcon, Zeiss, Sterrad, Wescot, Ergotron, UMF Ritter Exam Tables, Gentinge, Ziehm, Camtec Joerns, Harloff, Natus and more.

Laboratory, Brinkmann, Branson, Thermo Scientific, Bio Rad, Fisher, Millipore, Eppendorf, Perkin Elmer, Agilent, Waters, Gilson, Metrohm, Cole Parmer, Applied Biosystems, HP, Sorvall, Beckman,Bio Plex, Bel Art, EST Environmental, Betagen, Fisher, Shimadzu, Labconco, So Low Ultra Low, Sheldon Shel Lab, Qiagen, Sartorius and more.