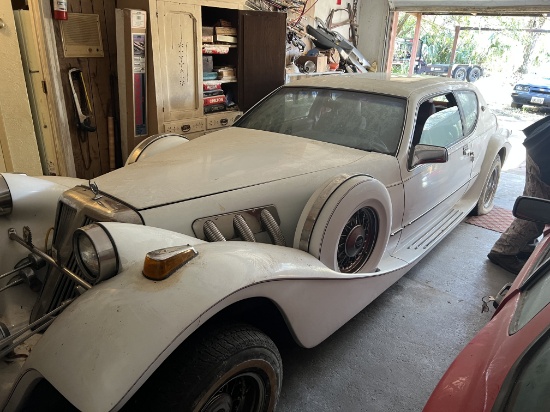 Campbell Estate Sale Vehicles & Personal Property
Auction closed.
Campbell Estate Sale Vehicles & Personal Property
Description
Estate On Line Only Auction Collector and Antique Cars, Furnishings and more! Bidding opens Saturday Jan 28th at Noon. Auction closes Sunday Feb 5th at 3:30 pm VEHICLES (2) Rolls Royce '88 Mercury Cougar LS Classic Tiffany (3) Porsche 944s, ('83, '84 &'85) '03 Cadillac Deville Biarritz '85 Ford Mustang LX '88 Mercury Grand Marquis '50 Crosley '87 Chevy S10 '66 VW Bug, no engine '57/58 Ford Fairlane convertible '55 Mercury '53 Lincoln Capri '74 Dodge Tradesman Conv Van- Vantastic MOTORCYCLES, TRAILERS & BOAT '03 Kawasaki VN800 '98 Honda Shadow '01 Honda CN250 (2) '93 Honda CN250 '86 Bayliner Capri, w/ 85hp Force outboard PLEASE NOTE: NOTE: All vehicles have been sitting and need some various amounts of work or are being sold for Scrap Value. Furniture and Misc.: Antique writing desk & 2 secretary desks, (2) player pianos, vintage lamps, pump organ, 1930s Billardette table, vintage record player, & more. NOTE: individually lotted items selling that way, all other items will be sold in bulk in two lots.
Lot Location:
All lots are located at event location