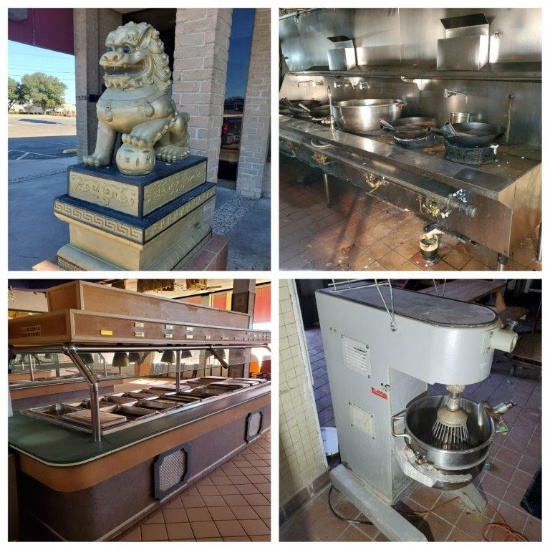 Summer Palace Chinese Buffet Liquidation
Auction closed.
Summer Palace Chinese Buffet Liquidation
Description
The owner has commissioned us to liquidate the Summer Palace Chinese Buffet. The restaurant closed February 2021 after the winter storms damaged the building. We are selling all the restaurant equipment including a Chinese Wok Range, Titan Freezer, Buffet Hot and Cold Food Bars, Taylor Soft Serve Ice Cream Machine, 2 Ice Makers, Fleetwood Commercial Mixer, ADC 44 Conveyor Dishwasher, Booths, Tables, Chairs, Chandeliers, plus so much more. This is a complete liquidation that will have something you need.

Pick-up times: Saturday (Feb. 5, 2022) from 10:00AM to 4:00PM or Tuesday (Feb. 8, 2022) from 1:00PM to 6:00PM

***MUST READ: There is NO ELECTRICITY OR WATER due to the damage of the building. All restaurant equipment is still hooked up and IT IS THE BUYER'S RESPONSIBILITY TO UNHOOK AND REMOVE IT.

All items were working when the restaurant closed. The power has only been off for a couple months.