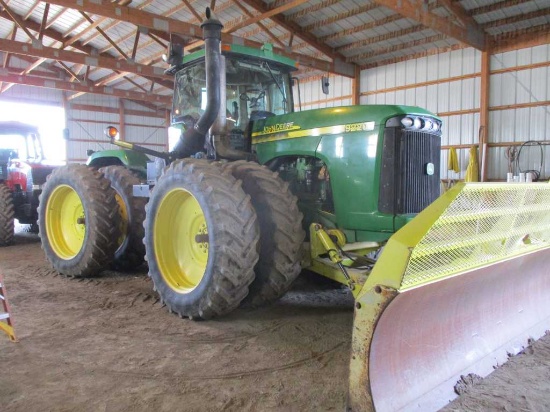 Allphin Family Trust #1 Retirement
Saturday, February 29, 2020 | 11:00 AM Central
Auction closed.
Allphin Family Trust #1 Retirement
Saturday, February 29, 2020 | 11:00 AM Central
Internet Premium:
2.5%
Instant Financing | Low Payments
See Special Terms for additional fees
Description
Saturday, February 29th, 2020 – 11:00 A.M.
This will Be a Short Auction So Plan to be on Time!
COMBINE - 2013 JD S660 Combine SN#1H0S660SCDO765100, 1522 Engine Hours, 990 Sep Hours, Dual Front Tires 480/80/R42, Rear Tires 480/70/R30, Heavy Duty Lateral Tilt Feeder House and Reverser, Auto Track Ready, Valve and Wiring, 3 Speed Electric
Transmission, Small Wire Concaves and Cover Plates, Round Bar Concaves and Cover Plates, Straw Chopper, Powercast Tailboard, 3 Cameras and Monitor, Custom Cutter Extended Wear Package, Separator and Concave, 22.5 ' Unloading Auger, Sidehill Performance Package, Cenex Engine Oil Warranty Until 2023

TRACTORS - 2005 John Deere Tractor 9220 SN# RW9220PO30552, 5097 Engine Hours - 325 HP, Dual Tires 480/80/R46, PTO, Rear 3 pt With Quick Hitch, Guidance Ready, Active Seat, 4 Remotes, Ground Speed Radar Sensor, Differential Lock, Power Shift 18 Forward, Instructional Seat, Degelman Dozer 14' (mounted on tractor) - 2006 Case IH MX285 SN# JAZ139568, 4232 Engine Hours, Dual Front Tires 380/85/R34, Dual Rear Tires 480/80/R46, MFD...
Show more
Show Less