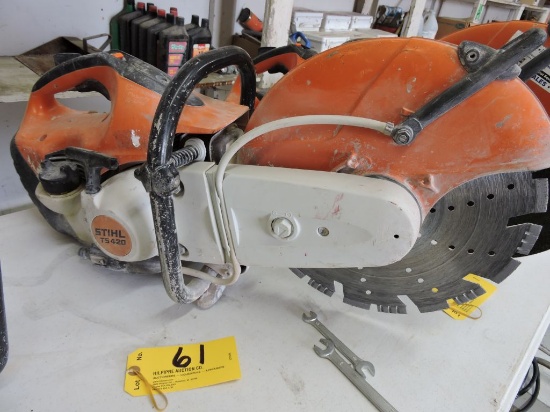 DAY 2 - Masonry Contractor - Wed., Dec. 15
Wednesday, December 15, 2021 | 9:00 AM Central
Auction closed.
DAY 2 - Masonry Contractor - Wed., Dec. 15
Wednesday, December 15, 2021 | 9:00 AM Central
Description
ANOTHER HILPIPRE
Day 2 AUCTION
LARGE MASONRY CONTRACTOR
GOING OUT OF BUSINESS
CARL SCHULER MASONRY CONSTRUCTION
2130 COMMERCIAL ST. -- WATERLOO, IA
Wednesday, December 15 – 9:00 AM
OFFERING BOTH LIVE ONSITE AND LIVE WEBCAST BIDDING

AUCTIONEERS NOTE: Schuler Masonry has been known for superior work and well cared equipment. The mixers were sandblasted and checked after each use. All equipment was shedded when not in use. All items in this auction have been inspected for working condition and ready to go to work. Due to the large amount of items it will be a two day auction.

SELLING Wed., Dec. 15 – 9:00 AM – 500 LOT NUMBERS!
SHOP EQUIPMENT: Heating system; Air comp.; Saws: Table; Block, Masonry; Bottle jack; Brick cutter; Air grinder; Much More / SHOP TOOLS: Various electric and cordless: Drills, Grinders, Screw guns, Others; Qty. of other tools. / INVENTORY: Qty. of wire, Hoses. Lights, Nails, Pipe, Screws, Vents; related inventory / RIGGING: Anchors, Chain binders, Block and tackle, Cable slings, Block carriers,...
Show more
Show Less