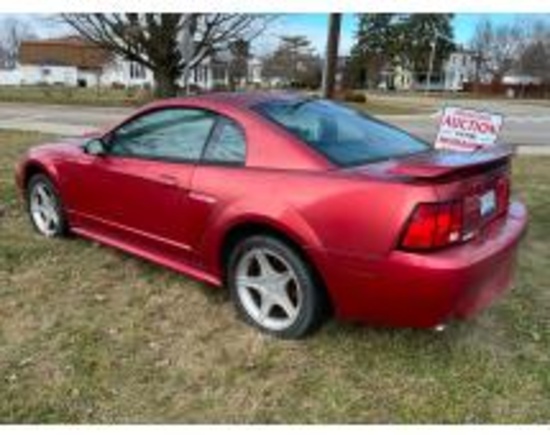 Online Only Auction, 2002 Mustang 1977 Thunderbird
Auction closed.
Online Only Auction, 2002 Mustang 1977 Thunderbird
Description
We will contact winning bidder following auction to arrange for payment of the vehicle. Please refer to terms and listing of the vehicle for terms of pickup and payment. This is an online only auction! Contact The UPS Store at 937-754-9999 or email them at store3844@theupsstore.com if you want items shipped. Items may also be picked up at scheduled removal, check terms for date and times!
Make:

Ford
Model:

Mustang
Year:

2002
VIN:

1FAFP42X02F195935
Trim/Options:

GT
Mileage:

134,782
Color - Exterior:

Red
Color - Interior:

Gray
Vehicle Title:

Clear
Year: 2002
Make: Ford
Model: Mustang
Vehicle Type: Passenger Car
Mileage:
Plate:
Body Type: 2 Door Coupe
Trim Level: GT Deluxe; GT Premium
Drive Line: RWD
Engine Type: V8, 4.6L (281 CID); SOHC 16V; EFI
Fuel Type: Gasoline
Horsepower: 225HP
Transmission:
VIN #: 1FAFP42X02F195935

Features and Notes:  We put a battery in the vehicle and it started up.  It appears to run fine.  The vehicle appears to have been sitting for a little while and needs a good cleaning.  The back bumper has some cracking paint.  Not sure about rest of paint.  It would need to be cleaned to determine condition of all of paint.  It will also need brakes and the power steering is not working.  It had a bottle of power steering fluid on the back floorboard and the reservoir is empty.  We have no idea why and again we have no one to ask.  The brakes are very rusty and barely stop the car. It will probably need to to be towed away due to bad brakes.  The heat and radio seemed to work fine.  The interior does not appear to have many if any rips.  But, really needs to be cleaned!  Please use images and your own inspection to confirm or determine the previous statements. We make no guarantees what so ever about this vehicle. We only guarantee you will receive a clean title.  You are buying it as-is!!  Again, it is an estate and we have no one to question about the vehicle. The attorney will be issuing the title after the purchase. We will not release the title or vehicle until payment has fully posted in our account. If you are out of state the funds will have to be wire transferred. You will need to text Innovative Auctions a signed copy of the invoice for the vehicle that you purchase.
Model:

Thunderbird
Year:

1977
VIN:

7G87S267396
Mileage:

81,543
Color - Exterior:

Blue
Color - Interior:

Blue
Item Location - State/Province:

Ohio
Vehicle Title:

Clear
This is a one owner car.  We have the original title for this vehicle. It has been stored in a garage for what appears to be since 1995.  That is the last time the vehic
...more