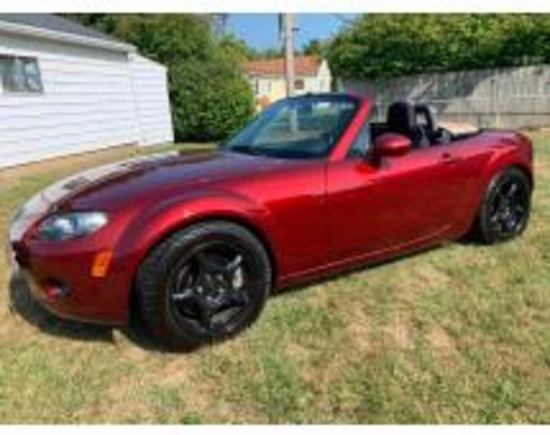 Online Only Auction of 2008 Mazda Miata MX-5
Bidding ends Monday, October 5, 2020 | 6:00 PM Eastern
Auction closed.
Online Only Auction of 2008 Mazda Miata MX-5
Bidding ends Monday, October 5, 2020 | 6:00 PM Eastern
Description
This is the estate of BarryBlack by Robert Carico, Executor, Montgomery County Ohio, Probate #2020EST00917. This is an estate vehicle. We will have the title and car available when the full payment is posted to our account. Pending is not posted. This vehicle is being sold as-is! This is an online only auction! Contact The UPS Store at 937-754-9999 if you want items shipped. Items may also be picked up at scheduled removal, check terms for date and times!
Year: 2008
Make: Mazda
Model: MX-5 Miata
Vehicle Type: Passenger Car
Mileage: 60,326
Plate:
Body Type: 2 Door Convertible
Trim Level: Sport; Touring; Grand Touring; SV
Drive Line: RWD
Engine Type: L4, 2.0L, 2.5 Turbo upgrade
Fuel Type: Gasoline
Horsepower:
Transmission: Automatic
VIN #: JM1NC25F780145215

Features and Notes:  This vehicle has some modifications.  The family told us that is has had a 2.5 T Swap.  The title reads 2.0L.  But, the daughter and Executor say that it had the motor swap and turbo added.  The paint has some chips and dings.  It also has some areas with touchup paint.  It is a soft top convertible and an automatic.  It has an after market radio.  It has 60,326 miles.  The executor says that the vehicle has 400HP.  Again, we have no way to prove that other than putting it on a dyno.  Which we are not doing.  The vehicle seems to run fine and we have video of it running up and down the street in front of the home.  We have provided many images of the vehicle.  We having a preview of the vehicle on Monday, September 28th from 4-5PM at 5327 Idlewood Drive, Dayton Ohio. We are not mechanics and strongly encourage previewing this vehicle if you are interested in buying it.  You are buying it as-is, how you see it and how it is!! You can always call us to schedule a private preview. at 937-847-8300.