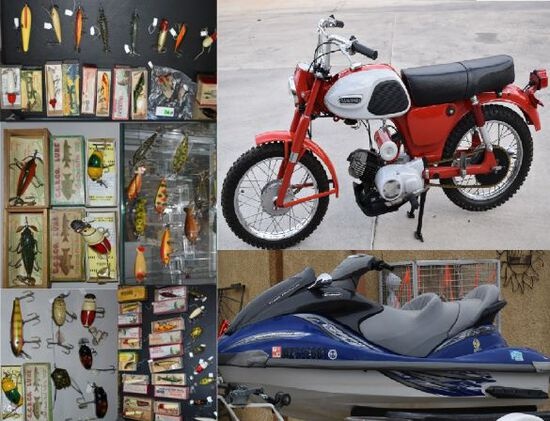 EXTREME COLLECTORS EVENT! FIREARMS
Saturday, November 26, 2022 | 1:00 PM Mountain
Auction closed.
EXTREME COLLECTORS EVENT! FIREARMS
Saturday, November 26, 2022 | 1:00 PM Mountain
Internet Premium:
18%
See Special Terms for additional fees
Description
THIS INCREDIBLE AUCTION FEATURES ONE OF THE COUNTRYS MOST SIGNIFICANT ANTIQUE FISHING COLLECTIONS! FEATURING SOME OF THE RAREST LURES IN THE WORLD IN MUSEUM CONDITION! SALE ALSO INCLUDES A YAMAHA 80, NASCAR & INDY COLLECTOR ITEMS, VINTAGE TRAIN SETS, BLACK POWDER WEAPONS, SILVER COINS, TOOLS, VAN BRIGGLE LAMPS, ORIGINAL BARBIE, AMAZING FURNITURE, MILITARIA ITEMS, VINTAGE KNIVES, LARGEST MINT IN BOX JIM BEAM TRAIN WE HAVE SEEN! WAVE RUNNER, AND MORE TO BE ANNOUNCED! WATCH THIS CATALOG GROW UNTIL AUCTION DAY!
Lot # 5 (Sale Order: 2 of 11)
DAISY POWERLINE 880 BB RIFLE! PERFECT GIFT FOR THIS HOLIDAY SEASON! INCLUDES MORE THAN HALF A CONTAINER OF BB'S! SEE PHOTOS!
Lot # 161 (Sale Order: 3 of 11)
THOMPSON CENTER ARMS 45 CAL BLACK POWDER RIFLE! SN 45406
Lot # 162 (Sale Order: 4 of 11)
THOMPSON CENTER ARMS .32 CAL BLACK POWDER RIFLE! SN 2247
Lot # 163 (Sale Order: 5 of 11)
C.V.A. .50 CAL BLACK POWDER RIFLE! SN 0058015
Lot # 275 (Sale Order: 7 of 11)
FANTASTIC THOMPSON CENTER ARMS .45 CAL BLACK POWDER PISTOL!
Lot # 277 (Sale Order: 9 of 11)
FANTASTIC BELIEVED BRAND NEW UBERTI U.S. 1847 BLACK POWDER REVOLVER! SEE PICS! SN D30409
Lot # 278 (Sale Order: 10 of 11)
AS BRAND NEW IN BOX! RUGER OLD ARMY BLACK POWDER PISTOL! SN# 148-00674
Lot # 279 (Sale Order: 11 of 11)
AS BRAND NEW C.V.A. .50 CAL BOBCAT BLACK POWDER RIFLE! 61-13-131575-02