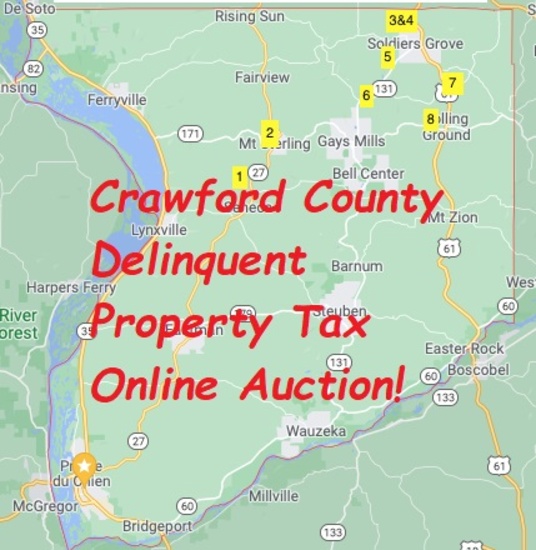 Crawford County Delinquent Property Tax Auction
Auction closed.
Crawford County Delinquent Property Tax Auction
Internet Premium:
10.00%
See Special Terms for additional fees
1 Minute Extended Bidding
Description
Crawford County Delinquent Tax Sale 2022
Terms and Conditions
PLEASE READ CAREFULLY ALL TERMS & CONDITIONS BEFORE YOU ATTEMPT TO BID:
Pursuant to Section 75.69 of the Wisconsin Statutes, Crawford County will be selling property by an
online auction starting on February 15th, 2022 and ending March 15th, 2022 at 10am. All properties
must be closed on or before 4/15/2022.
All properties will be sold on the internet thru Kramer Auction Service website at
www.kramersales.com business located at 203 East Blackhawk Avenue, Prairie du Chien,
Wisconsin.
These sales are subject to Section 3.01 of the Crawford County Code of Ordinances and Section
75.27 of the Wisconsin Statutes.
Terms of Sale: The Successful high bidder on the real estate will be required to sign a Wisconsin
Real Estate Offer to Purchase within 48 hours of conclusion of the online real estate bidding sale
and tender the required earnest money deposit of 10% down payment of the sale price.
A 10% Buyers Fee will be added to the accepted final bid price to...
Show more
Show Less