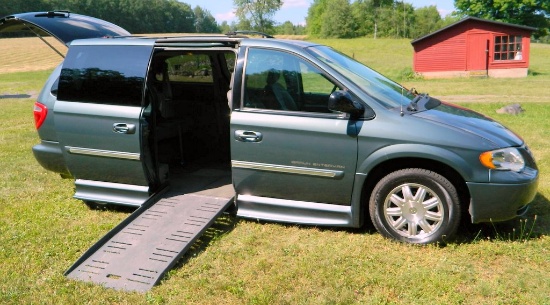 Estate Vehicle Auction
Wednesday, August 15, 2018 | 12:00 PM Eastern
Auction closed.
Estate Vehicle Auction
Wednesday, August 15, 2018 | 12:00 PM Eastern
Description
Three estate vehicles. Late model, classic, and compact farm tractor.
Lot # 0 (Sale Order: 1 of 5)
Welcome!
Bid along with the Auctioneer in real-time on August 15th at 12:00 ET, and/or place your pre-bids now.
Opening bids are LOW and do not reflect the value of any item. Buyer premium of 13% applies. Photos are part of the description, please view them all PRIOR to bidding on an item.
TITLED VEHICLES & TRACTOR:
Winning bidder receives a Bill of Sale to include VIN, make, model, year, selling price, as-is condition, signatures.
Pickup/Removal for the:
TRACTOR
or
VAN
in
EFFORT, PA
is by appointment only
OLDSMOBILE
in
BERLIN, NJ
is by appointment only
SHIPPING:
We are happy to coordinate with your third-party shipper of choice. Please contact us with details.
YOUR BID shall be conclusive proof
that you have made yourself acquainted with these conditions and those stated in Information and Special Terms and you have agreed to be bound by them. We encourage and welcome any questions BEFORE placing a bid, as
ALL SALES ARE FINAL
, and all items are sold as-is, where-is.
Bidder shall be the sole judge of value.
We do not and cannot guarantee nor warranty the authenticity of any item. For each item we bring to auction, it is bidder responsibility to determine condition, age, genuineness, value, or any other factor; we make no representations to any aforementioned criteria, and all titles and descriptions are statements of opinion. In no event shall we be responsible for having made or implied any warranty of merchantability or fitness for a particular purpose. Each item has multiple detailed photographs and are described as what we see and Consignor opinion; please use your own expertise when bidding. We encourage you to ask if you seek further clarity.
PAYMENT:
Invoices are sent to winning bidders immediately following the sale. Please ensure the account number and expiration date is accurate and the card can bear the weight of your purchases. Issues with payment will result in a suspended account with us and the bidding platform.
Only cash or cashiers check will be accepted payment for these lots.
Winning bidder will have a
$1,000 HOLD
placed on his/her credit card as security deposit by midnight on auction day. The hold will be released, and vehicle and clear title will be released, once full payment has cleared. In the event of buyer default, the $1,000 deposit becomes non-refundable. No items will be released without payment in full and until funds have cleared our bank.
PICKUP/REMOVAL:
Your printed invoice and ID is required for removal. Please bring helpers, tools, and supplies to safely remove and transport your winnings, as none will be provided. Items not removed at the agreed time are abandoned to the Auctioneer. No refunds will be processed.
F.A.N. (Future Auction Notification)
By registering for this auction, you agree to receive occasional auction notification by email from Legacy Auction & Realty; you may unsubscribe at any time by using the link at the bottom of any of those emails or contacting us directly: auctioneer@bidlegacy.com
Happy bidding!
Lot # 1 (Sale Order: 2 of 5)
Video in First Photo Frame.
Vehicle is located in Effort, PA.
Clean and garage-kept conversion van.
In very good condition as photos and video show.
Van was altered for wheelchair accessibility by Braun Corp.
Front passenger seat is removable to secures a handicapped passenger.

Conversion Includes:
- Lowering Kit
- Power Sliding Door
- Power Folding Ramp
- Drivers Transfer Seat
- AMF-Bruns Wheelchair and Occupant Restraints
** NO HAND CONTROLS

Year: 2007
Make: Chrysler
Model: Town & Country
Vehicle Type: Van
Mileage: 50,960
Body Type: 4 Door Van; Extended
Trim Level: Touring
Drive Line: FWD
Engine Type: V6, 3.8L
Fuel Type: Gasoline
Transmission: Automatic
VIN #: 2A4GP54L97R258538

Clean inside and out.
Runs very quietly (noise heard in video is of the tractor running in the background).
Current PA inspection, expires 8/18.
Like-new tires.
Interior is very clean. Cold A/C.
It is a used vehicle so may have very small scratches/marks as expected, however as shown it is in very good condition inside and out. Includes one key fob.
Rare chance to get a conversion van with less than 5,000 miles a year on it.

Extra set of four matching Michelin tires from this vehicle selling at auction:
https://www.proxibid.com/Vehicles-Marine-Aviation/Cars-Trucks/Set-of-Four-Matching-Michelin-225-R16-Tires/lotInformation/43379575

Vehicle is located in Effort, PA.

Lot # 2 (Sale Order: 3 of 5)
Make:

Oldsmobile
Model:

Delta 88
Year:

1974
Body Type:

Convertible
Mileage:

85,014
Exterior Color:

Yellow
Interior Color:

White
Drive:

Rear Wheel Drive (RWD)
Cylinders:

8-Cyl.
Condition:

Very Good
Doors:

2-Door
Vehicle Title:

Clear
To view these videos, please copy and paste this link into your browser:
www.facebook.com/rich.coccodrilli/videos/10217129671097966/UzpfSTQxNzg0NTgyMTYzNjcyNDoxOTQ0NDc2NTA1NjQwMzA3/

And, click on these two to view convertible top action:
https://youtu.be/-SRfDmeUod0
https://youtu.be/1vz61WBq10c

This is a fine example of the full-size GM B-body land yacht. Starts right up and runs great. A pleasure to drive. Quiet and smooth ride. The Royale was the upscale Delta Eighty-Eight model. Only 3,716 convertibles were made for the 1974 model year. Get yours here! Vehicle is located in Berlin, NJ.

This classic Oldsmobile beauty features:
- Engine: 350 cubic inch V-8
- Power steering
- Power disc brakes
- Power convertible top
- Push button AM/FM radio
- Climate control includes Air conditioning, Heat, Vent, and Defrost with four fan settings
- Spare tire
- Huge glove compartment
- Dual side mirrors
- New battery (July 2018)
- Clean white convertible top shows speckles as expected
- Clean all around: seats, floor, dash, trunk, white boot

Year: 1974
Make: Oldsmobile
Model: Delta 88 Royale
VIN: 3BN67LAN406483
Odometer Reading: 85,014
Engine: 350 cubic inch V-8
Transmission Type: Automatic
Drivetrain: RWD
Body Color: Light Yellow/Deep Ivory
Interior Color: White seats with black carpeted floor and four floor mats

Known issues are all photographed: Some speckles of rust and a few dings shown close-up. Old tape repair on passenger-side seatbelt anchor cover. One-inch tear at rear window. Old body repair behind front driver's wheel well. Hole in exhaust at muffler. Long scratch/shallow dent along passenger side; no rust seen.

Vehicle is located in Berlin, NJ.

Lot # 3 (Sale Order: 4 of 5)
Make:

John Deere
Model:

955
Year:

1996
Hours:

485
Condition:

Very Good to Excellent
Enclosed Cab:

Yes
Video in First Photo Frame.
Tractor is located in Effort, PA.
Great estate find, barn stored. Had been enjoyed on a gentlemen's estate. No hard farm or construction work on it.

* Hours gauge shows 477 hours on this clean piece of equipment. Caretaker of estate just notified us (Aug 3rd) that the tach/hours gauge stopped working this past winter. He estimates only an additional 5 hours have put on it since the gauge stopped. That's only about 22 hours a year!

Photos and video describe it best.
Clean, runs perfectly, very little amount of any cosmetic wear/scratches. Bright JD Green paint.
Non-aggressive turf tires are excellent as expected.

Includes:
- JD 7 Backhoe
- JD 70A Front Loader Bucket
- Curtis Cab
- Yellow Vinyl Cab Sections
- Weight Box
- 3 Point Hitch Parts
- Extra Filters and Hose
- Additional Front Tire and Rim

A truly great example of a farm compact diesel tractor.
Likely one of the nicest available you will find.
Do not miss out on this tractor. Barely broken in, ready to work and enjoy.
Low Reserve. Seller wants it sold. Bid with Confidence.

TRACTOR SPECS LINK:
www.tractordata.com/farm-tractors/000/1/5/152-john-deere-955.html
Tractor is located in Effort, PA.

Lot # 4 (Sale Order: 5 of 5)
Find a buyer nationwide without lifting a finger. Contact us at 570-656-3299 or email to auctioneer@bidlegacy.com for details.