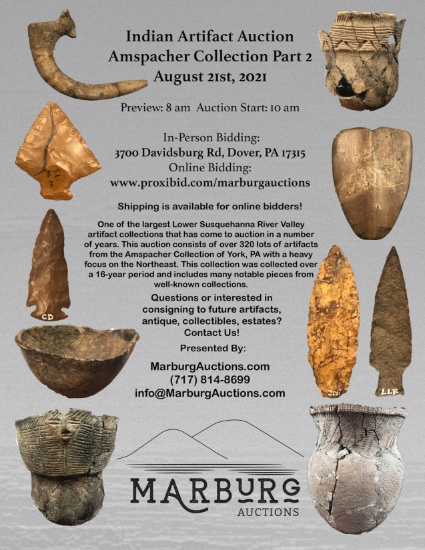 Artifact Auction, Amspacher Collection Part 2
Saturday, August 21, 2021 | 10:00 AM Eastern
Auction closed.
Artifact Auction, Amspacher Collection Part 2
Saturday, August 21, 2021 | 10:00 AM Eastern
Internet Premium:
12% - 15%
See Special Terms for additional fees
Description
Up for auction is the second part of a large Lower Susquehanna River Valley artifact collections (one of the largest that has come to auction in a number of years).
The Amspacher Collection was collected over 16+ years and consists of arrowheads, stone tools, axes, celts, pendants, bannerstones, spearpoints, Iroquoian and Susquehannock artifacts, trade beads, clay pipes, stone pipes, pottery vessels and more! The auction will include group lots and individual lots as well as items for beginner collectors and high-end collectors.