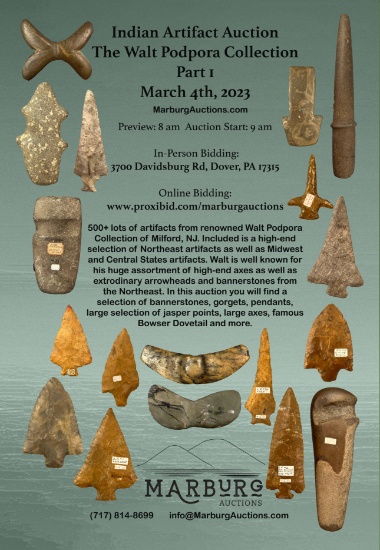 Indian Artifact Arrowhead Auction-Walt Podpora Col
Saturday, March 4, 2023 | 9:00 AM Eastern
Auction closed.
Indian Artifact Arrowhead Auction-Walt Podpora Col
Saturday, March 4, 2023 | 9:00 AM Eastern
Internet Premium:
17%
See Special Terms for additional fees
Description
Up for auction is part 1 of the Walt Podpora Collection of Milford, New Jersey. Walt's artifact collection includes an impressive assortment of Pennsylvania and New Jersey artifacts as well as the rest of the northeast. Walt's collection also had an emphasis on the midwest and central states. He is most known for his massive assortment of high-end axes and stone stools from across the country. Walt built an "axe house" to house his thousands of stone tools including axes, celts, adzes, pestles, mortars, soapstone vessels, spades, discoidals and more. In addition to stone tools, Walt's collection includes some of the finest northeastern arrowheads, blades, bannerstones, pendants, gorgets and other stone implements. Included in this sale is the famous "Doc Boswer Dovetail", a stunning and large Dorothy Middleton jasper perkiomen, one of the best chlorite wingnut bannerstones with heavy geometric designs, a stunning double crescent bannerstone from Ohio, many MASSIVE axes most of which stand on end, and many more pieces.

Walt Podpora was born on March 12th, 1942 and grew up...
Show more
Show Less