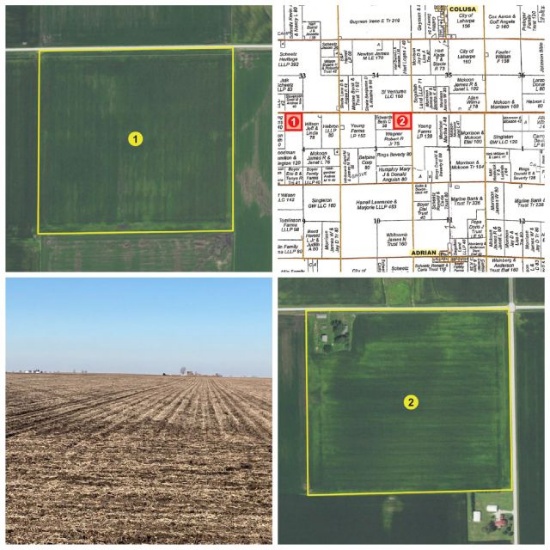 Hancock County, IL Land Auction - 79.41 Acres
Thursday, January 26, 2023 | 10:00 AM Central
Auction closed.
Hancock County, IL Land Auction - 79.41 Acres
Thursday, January 26, 2023 | 10:00 AM Central
Internet Premium:
See Special Terms for additional fees
Description
Hancock County, IL
Land Auction
79.41 Acres - 2 Tracts


Thursday, January 26, 2023 at 10:00 AM

Description, Location & Terms



79.41 Surveyed Acres - 2 Tracts



Located approximately 10 miles north of Carthage, IL (2 miles NW of Adrian, IL). These tracts will be offered "Buyers Choice" with the first successful bidder having the opportunity to take either or both tracts. If only one tract is selected the remaining tract will then be sold. Bidding will be on a price per acre basis, based on the surveyed acres. Ten percent of the purchase price to be paid at the conclusion of the sale with the balance due on or before March 10, 2023. Both tracts sell subject to a cash rent lease for the 2023 farming season with the purchasers to receive the $240.00 per tillable acre cash rent. The 2023 real estate taxes due in 2024 to be paid by the Buyers. Sellers will furnish Title Insurance in the full amount of the purchase price. Immediately following the auction the Buyers will be required to enter into a...
Show more
Show Less
Lot # 1 (Sale Order: 1 of 2)
Quantity: 40
The NE1/4 of the NW1/4 of Section 4, Rock Creek Township, (T6N-R7W), Hancock County, IL. All level "Class A", tillable farmland with a 144.2 Productivity Index. 100
...more
$

23,800.00

x 40 = $

952,000.00

Total
Lot # 2 (Sale Order: 2 of 2)
Quantity: 39
The NE1/4 of the NE1/4 of Section 3, Rock Creek Township, (T6N-R7W), Hancock County, IL. All level "Class A" farmland with a 145.2 Productivity Index. It is nearly
...more
$

23,800.00

x 39 = $

928,200.00

Total