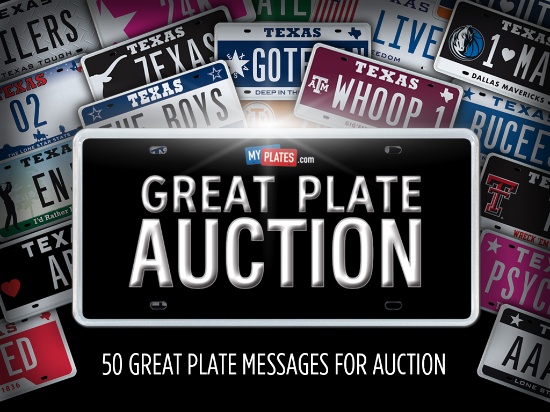 My Plates GR8PL8 Auction
Bidding ends Wednesday, December 7, 2022 | 8:00 PM Central
until bidding ends.

My Plates GR8PL8 Auction
Bidding ends Wednesday, December 7, 2022 | 8:00 PM Central
until bidding ends.


Internet Premium:
See Special Terms for additional fees
Description
50 featured great plate messages, from rare 2-digit messages to unique words and phrases. Winner gets initial 5-year term included plus first right of renewal. Unlike normal plates, Texas Auction Plates are fully transferable, meaning you can pass on to family members, gift to a friend, or even sell for a profit. Winner gets to choose which of the 100+ eligible My Plates Select background designs the message is placed on. Bidding is open from Nov 2 through Dec 7, 8pm!