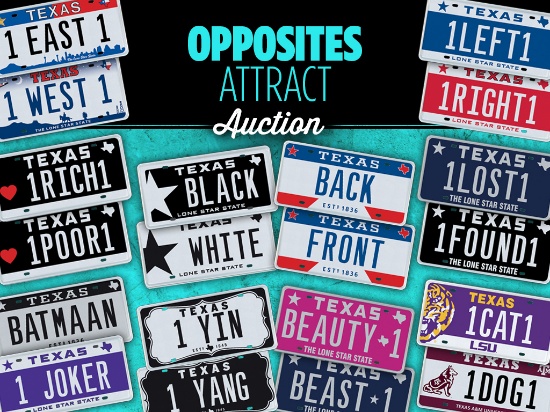 My Plates Opposites Attract Auction
Bidding ends Wednesday, April 19, 2023 | 8:00 PM Central
until bidding ends.

My Plates Opposites Attract Auction
Bidding ends Wednesday, April 19, 2023 | 8:00 PM Central
until bidding ends.


Internet Premium:
See Special Terms for additional fees
Description
50 plate messages combined into 25 amazing Lots! One bid wins both plate messages in a Lot. All plates come with an initial 5-year term, owner first rights to renew, and are fully transferable (meaning a Lot winner can gift one or both of the plate messages to a friend, family member or significant other). Place the messages on 100+ eligible My Plates Select background designs. Bid March 15 – April 19, 2023!