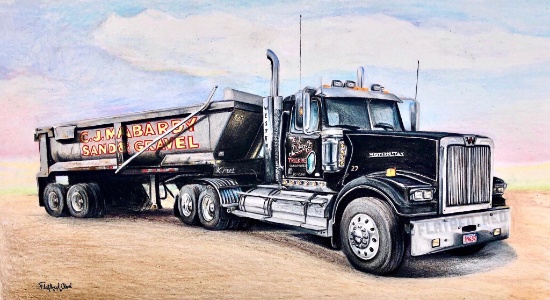 Retirement of C J Mabardy
Saturday, October 26, 2019 | 9:00 AM Eastern
Auction closed.
Retirement of C J Mabardy
Saturday, October 26, 2019 | 9:00 AM Eastern
Description
AFTER MORE THAN 50 YEARS OF DEDICATED SERVICE IN THE MASSACHUSETTS, NEW HAMPSHIRE, MAINE, RHODE ISLAND AND CONNECTICUT AREA, CHUCK AND BUDDY ARE ANNOUNCING THEIR RETIREMENT FROM THE BUSINESS CONDUCTING A FINAL PHASE RETIREMENT SALE OF THEIR REMAINING FLEET OF CONSTRUCTION TOOLS, TRUCKS, TRAILERS AND HEAVY EQUIPMENT IN ONE ABSOLUTE AUCTION!
C.J. MABARDY INC DID IT ALL. PROUDLY OFFERING SERVICES OF SITE WORK, ENGINEERING, DEMOLITION, TRANSFER STATION, DUMPSTER SERVICE, TRUCKING AND CONSTRUCTION MANAGEMENT AND MORE. FOUNDED BY CHARLES J. MABARDY AND JOSEPH (BUDDY) MABARDY, THEY MAINTAINED OFFICE, PLANTS AND CONSTRUCTION DEBRIS TRANSFER STATIONS IN BOTH CAMBRIDGE AND WINCHENDON MASSACHUSETTS.
FOR MORE THAN 50 YEARS, THE NAME MABARDY HAS BEEN SYNONYMOUS WITH SUCCESS. MABARDYS OPERATIONS INCLUDED AN ENGAGING STAFF OF OVER 175 EMPLOYEES AND AN OUTSTANDINGLY WELL MAINTAINED FLEET OF DUMP TRAILERS, TRIAXLES AND HEAVY EQUIPMENT ON PROJECTS THAT SPANNED ALL OVER NEW ENGLAND.
C.J.MABARDY INC HAS A PROJECT PORTFOLIO THAT ENCOMPASSED VIRTUALLY EVERY AREA OF THE MARKETPLACE AND IS...
Show more
Show Less