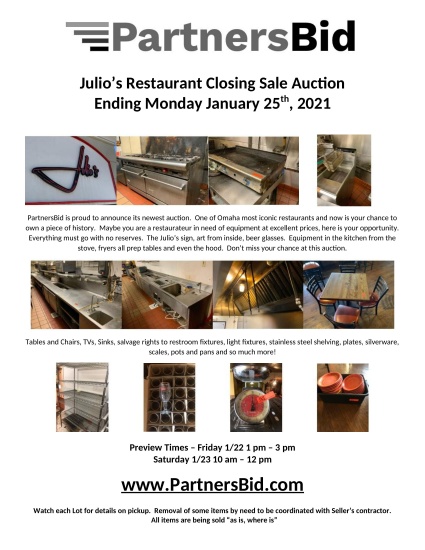 Restaurant Close Out Auction
Auction closed.
Restaurant Close Out Auction
Description
PartnersBid is proud to announce its newest auction. One of Omaha most iconic restaurants and now is your chance to own a piece of history. Maybe you are a restaurateur in need of equipment at excellent prices, here is your opportunity. Everything must go with no reserves. The Julio's sign, art from insider, beer glasses. Equipment in the kitchen from the stove, fryers all prep tables and even the hood. Don't miss your chance at this auction

Kitchen equipment including hoods, stove, fryers, ice maker, stainless steel prep tables and more.

Tables and Chair, bar stools, the original Julio's bar. Beer glasses, margarita glasses, shakers and more.

TVs, speakers and stereo receivers. Pots, Pans, stainless steel steamer pans, kitchen utensils.

If you need kitchen items for you home, restaurant or commercial kitchen you can't miss this auction.

Can't be around for the final call on Monday January 25th at 6 pm. Put in you high bid now. Bids will only go up as other people bid, not allowing anyone to see your high bid, but...
Show more
Show Less