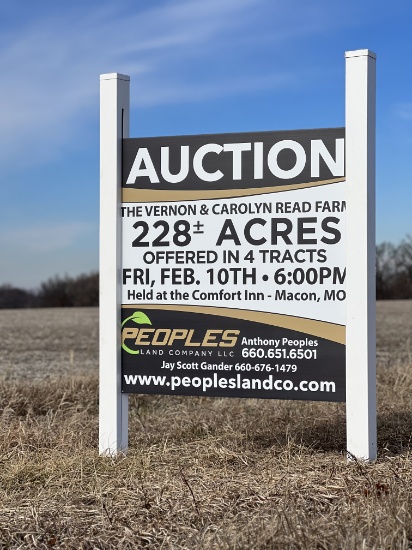 The Vernon and Carolyn Read Farm
Friday, February 10, 2023 | 6:00 PM Central
Auction closed.
The Vernon and Carolyn Read Farm
Friday, February 10, 2023 | 6:00 PM Central
Internet Premium:
See Special Terms for additional fees
Description
Large Macon County Land Auction - 229 Surveyed Acres in 4 Tracts

Great Development Potential!

February 10th, 2023 at 6 pm at the Comfort Inn in Macon


Auctioneers Note:
There aren't many opportunities in this area to obtain such a well-maintained family-owned farm. Trading farms come and go but farms that are owned by such well known and well thought of people in the community, don't come up for sale often. This is a farm that will simply hold its value better than most. The chances of a farm like this ever hitting the market again, is simply put, slim. The location and layout make it a blank slate for the new owners. Carolyn has made the decision to relocate, and this decision has been a tough one. The Macon community is a great one, and now the farms will be offered up for sale, to be a part of someone else's life. We are proud to offer such a nice farm for such a great family! Don't miss this sale and opportunity.

The Vernon and Carolyn Read Farm will be offered at public auction on February 10th. This farm offers some...
Show more
Show Less
Lot # A (Sale Order: 1 of 5)
The farm will be split into 4 tracts and all these tracts will be offered at the Buyer's Choice Method of auction. The tracts will not be tied back together in any form
...more
Lot # 1 (Sale Order: 2 of 5)
Quantity: 42
Tract 1 is 40.4 surveyed acres with FSA indicating over 37 open acres. This tract would make an outstanding build site, great pasture, or would pair up nicely with tract
...more
$

5,750.00

x 42 = $

241,500.00

Total
Lot # 2 (Sale Order: 3 of 5)
Quantity: 36
Tract 2 is 36.4 surveyed acres with FSA indicating 31.6 open acres, 21 of which are top tier tillable acres. This tract has a nice 1949 built home that is right at 1150 s
...more
$

8,850.00

x 36 = $

318,600.00

Total
Lot # 3 (Sale Order: 4 of 5)
Quantity: 60
Tract 3 is 59.9 surveyed acres that will offer up some outstanding pasture/tillable opportunities. FSA indicates over 50 open acres (New survey to determine amount) man
...more
$

4,650.00

x 60 = $

279,000.00

Total
Lot # 4 (Sale Order: 5 of 5)
Quantity: 91
Tract 4 is 90.9 surveyed acres with a Highway 63 frontage on the east side a gravel road along the south. FSA Indicates 76.22 open acres. This tract consists of mostly
...more
$

8,400.00

x 91 = $

764,400.00

Total